Glory of the Orgrimmar Raider Boost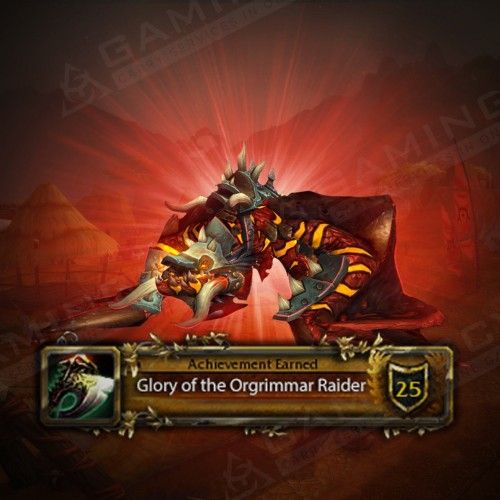 24/7 support
Get a helpful human reply in ±15 seconds!

Hide My Boost
We've developed this unique software to protect you from bans and suspensions. It allows account sharing without flagging an account.

Secure Payments
You can pay securely with PayPal or your Credit Card via Stripe. All payments are covered with the customer protection system and money back guarantee!

Secure Web-site
SSL and HTTPS protocols are used for your 100% privacy & data safety

Enlarge your collections!
An extensive list of unique & rare collectibles makes your gameplay brighter and your whole account more precious!
Welcome to Gamingcy, where you can purchase a Glory of the Orgrimmar Raider boost from our team of professional WoW PvE gamers. Our carries are available on any EU or US server, and our expert raiders will provide a seamless Siege of Orgrimmar achievements run to ensure that you fulfill all the requirements for the WoW SoO Raid Glory meta and unlock the highly coveted Spawn of Galakras account-wide mount.
During the boost, any WoW gold or other rng-based rewards that you may receive via legacy loot will belong to you, making our service a profitable investment.
Even in the World of Warcraft Dragonflight realities, completing this instance solo can be a daunting task. While you can try to search for help in the LFG or the Trade chat, it is highly unlikely that you will find a group of players willing to do a SoO achievements run. Most players are typically involved in the most recent game content, leaving the legacy raids for later. Even when you do manage to find some teammates, they are likely to be either toxic individuals or newbies who are not familiar with the raid, boss fights, and mechanics. You will have to consult various guides and explain strategies to your group, which could take you days or even weeks to complete.
Therefore, we recommend taking advantage of Gamingcy's Glory of the Orgrimmar Raider carry service to earn 165 achievement points and a new epic account-wide mount, all without the hassle. Our expert team of raiders will ensure a smooth and stress-free gaming experience, allowing you to focus on enjoying the game. Contact us today and get ready to reap the full benefits of our WoW PvE gaming services!
How to get the Glory of the Orgrimmar Raider Mount?
At Gamingcy.com, we offer the perfect solution to your World of Warcraft PvE needs with our Glory of the Orgrimmar Raider mount boost. Our raid runs are provided by the best PvE guilds, ensuring a quick and secure service.
Skip the tedious and time-consuming glory achievements farming with random players from the LFG. It can take ages to get the desired meta-achieves. Our professional PvE guilds will save you tons of time, effort, and money. The entire boosting process is hassle-free and enjoyable, as we handle the job from start to finish. We'll even explain the strategies, tactics, and mechanics where necessary.
Our team's primary goal is to provide you with a SoO mount boost in the fastest possible way. With our 24/7 online support and experienced raiders who know the most efficient walkthrough of any WoW encounter, you'll receive a Premium 5-star service instead of wasting dozens of hours googling for guides and wiping with pugs to get the Glory of the Orgrimmar Raider. Our carry will save you a lot of time and guarantee the desired results for your paid money.
Enlarging your collection of Dragonflight collectibles has never been easier! Contact us today and enjoy a stress-free WoW PvE gaming experience with our expert team of raiders at Gamingcy.com.
ETA:
Average starting time: 1-3 days
Average execution time: 2-8 hours
Rewards you will get:
Glory of the Orgrimmar Raider meta-achievement and all SoO raid achievements required for this meta;
Reins of Galakras account-wide flying mount;
A chance to get some gear and weapons for transmog purposes;
Siege of Orgrimmar raid completed in Normal Mode.
Options available:
Selfplay:

you will play your character yourself with a group of our professional player(s).

Account sharing:

an experienced player will securely log into your account and do all the work for you.
Requirements + Important notes:
70 level

character in EU or US server
Bosses will be killed in the following order:

Immerseus
The Fallen Protectors
Norushen
Sha of Pride
Galakras
Iron Juggernaut
Kor'kron Dark Shaman
General Nazgrim
Malkorok
Spoils of Pandaria
Thok the Bloodthirsty
Siegecrafter Blackfuse
Paragons of the Klaxxi
Garrosh Hellscream