Glory of the Argus Raider Boost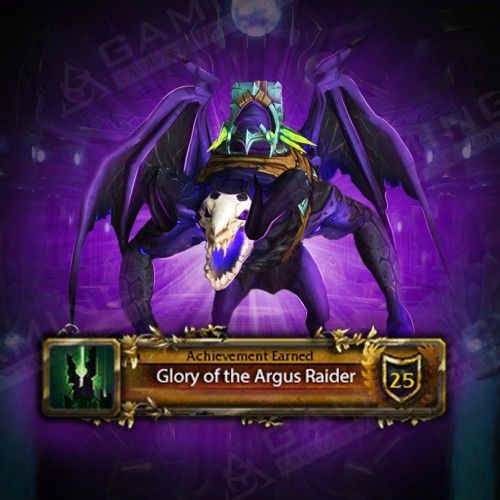 24/7 support
Get a helpful human reply in ±15 seconds!

Hide My Boost
We've developed this unique software to protect you from bans and suspensions. It allows account sharing without flagging an account.

Secure Payments
You can pay securely with PayPal or your Credit Card via Stripe. All payments are covered with the customer protection system and money back guarantee!

Secure Web-site
SSL and HTTPS protocols are used for your 100% privacy & data safety

Enlarge your collections!
An extensive list of unique & rare collectibles makes your gameplay brighter and your whole account more precious!
Welcome to Gamingcy, the place where you can buy a Glory of the Argus Raider boost from our team of professional WoW PvE gamers. Our carries are available on any EU and US server, and our expert raiders will provide a seamless Antorus, the Burning Throne achievements run to help you fulfill all the requirements for the WoW Antorus Raid Glory meta. Moreover, you will unlock the highly-coveted Antoran Gloomhound account-wide mount.
One of the best things about purchasing our boost is that any WoW gold or other rng-based rewards that you may receive during the boost via legacy loot are yours to keep.
In the World of Warcraft Dragonflight realities, completing this instance solo can be quite challenging. While you may try to find help in the LFG or the Trade chat, as our experience shows, it will be a daunting task. Firstly, you will not find an extensive list of players willing to do a Antorus achievements run, as most players are engaged in the latest game content, leaving the legacy raids for later. Even when you manage to find some teammates, they are likely to be either toxic individuals or newbies who are not familiar with the raid mechanics, boss fights, and strategies. You will have to check various guides and explain the strategies to your team members. As a result, completing all the requirements alone could take you days or even weeks.
At Gamingcy, we provide a hassle-free solution to this problem. Take advantage of our Glory of the Argus Raider carry service and earn 135 achievement points and a new epic account-wide mount with ease. Our expert team of raiders will provide you with a seamless gaming experience, so why wait? Contact us today and enjoy a stress-free WoW PvE gaming experience!
How to get the Glory of the Argus Raider Mount?
Looking for a hassle-free way to buy a Glory of the Argus Raider mount? Look no further than Gamingcy.com! Our site offers raid runs that are provided by the best World of Warcraft PvE guilds, ensuring a fast and secure boost process.
With our professional PvE guilds, you can skip the tedious glory achievements farming with random players from LFG, which could take you ages to get the desired meta-achieves. We understand that your time, effort, and money are valuable, so we provide a turn-key boosting process that saves you all of these resources. We will explain the strategies, tactics, and mechanics where necessary to ensure the entire boosting process is hassle-free and enjoyable.
Our primary goal is always to provide you with the Antorus mount boost in the fastest possible way. With our 24/7 online support and experienced raiders who know the most efficient walkthrough of any WoW encounter, we offer a Premium 5-star service instead of wasting dozens of hours googling for guides and wiping with pugs to get the Glory of the Argus Raider. Our carry will save you a lot of time and allow you to get the guaranteed result for the paid money. You can now enlarge your collection of Dragonflight collectibles without the stress!
So why wait? Contact us today and enjoy the benefits of our professional PvE guilds to get a hassle-free and enjoyable WoW gaming experience!
ETA:
Average starting time: 1-3 days
Average execution time: 2-8 hours
Rewards you will get:
Glory of the Argus Raider meta-achievement and all Antorus raid achievements required for this meta;
Antoran Gloomhound account-wide flying mount;
A chance to get some gear and weapons for transmog purposes;
Antorus, the Burning Throne raid completed in Normal Mode.
Options available:
Selfplay:

you will play your character yourself with a group of our professional player(s).

Account sharing:

an experienced player will securely log into your account and do all the work for you.
Requirements + Important notes:
70 level

character in EU or US server
Bosses will be killed in the following order:

Garothi Worldbreaker
Felhounds of Sargeras
Antoran High Command
Portal Keeper Hasabel
Eonar the Life-Binder
Imonar the Soulhunter
Kin'garoth
Varimathras
Coven of Shivarra
Aggramar
Argus the Unmaker