The Order of the Awakened Reputation Boost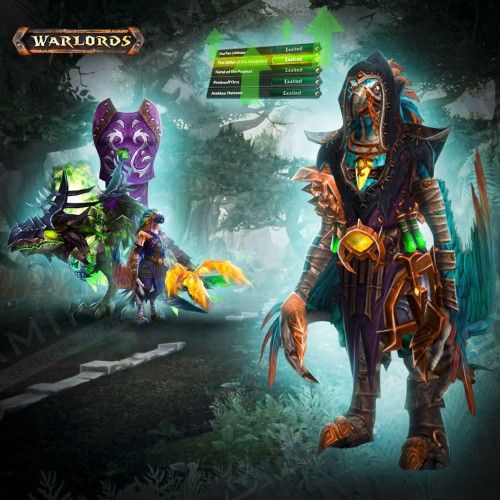 Boosting Schedule
Set the time when the booster may play your account with your manager. We can provide your whole carry while you're AFK without disturbing your usual gaming time!

Hide My Boost
We've developed this unique software to protect you from bans and suspensions. It allows account sharing without flagging an account.

Secure Payments
You can pay securely with PayPal or your Credit Card via Stripe. All payments are covered with the customer protection system and money back guarantee!

Secure Web-site
SSL and HTTPS protocols are used for your 100% privacy & data safety
This service enables you to purchase the Order of the Awakened rep boost for WoW Draenor's neutral faction, available on all EU and US Dragonflight servers. Our skilled booster will securely log into your account and complete various faction-related quests and daily missions until reaching the exalted rep level.
By purchasing the Order of the Awakened rep farming service, you gain access to exclusive faction rewards. This type of boost is highly sought-after by our customers as it unlocks the most desirable advantages of this faction. We provide an array of Order of the Awakened rep level upgrades, whether your goal is to progress from Friendly to Exalted or achieve other standing enhancements to secure the Corrupted Dreadwing.
Opting for our reputation boost is the most efficient way to bypass tedious rep grinding and quickly and safely access rewards. Our expert World of Warcraft boosting service ensures a smooth and enjoyable leveling experience, handling the entire process on your behalf.
The Order of the Awakened Rep Power leveling:
What's the Procedure?
The process is simple and quick. After purchasing The Order of the Awakened rep leveling service, our manager will promptly reach out to you via Skype, Discord, or Email. Typically, it takes us 5-10 minutes to make contact, but you can also connect with us 24/7 through Gamingcy on Discord.
Together, you'll discuss the particulars of The Order of the Awakened reputation power leveling for your account, such as the starting time, an appropriate playing schedule, and other considerations. Our manager will keep you updated throughout the boosting process and immediately notify you through your preferred messenger once the task is complete. Say farewell to extensive WoW reputation grinding—buy a boost and let Gamingcy handle the mundane tasks!
WoW Order of the Awakened Rep Farming:
Insider Knowledge
As enthusiastic gamers ourselves, we can state with certainty that the quickest way to achieve Exalted status with the Order of the Awakened faction is by purchasing an express reputation boost through our site. This option allows you to bypass hours of repetitive quest farming.
We maintain that online gaming should provide enjoyment and elicit positive emotions, leaving you feeling content after each session. World of Warcraft Dragonflight high-level activities, including raids, dungeons, and arenas, can offer these experiences. In contrast, monotonous reputation quest grinding resembles tedious office work rather than immersive entertainment. Devoting precious gaming hours to building rep with the Order of the Awakened is not the most efficient choice.
A more intelligent approach is to entrust the monotonous rep grind to an experienced gamer who possesses extensive knowledge of Warlords of Draenor locations, questlines, mob spawn locations, and the fastest methods for achieving exalted reputation status with this faction. Another essential factor is that the entire leveling process will be turn-key and scheduled at a convenient time for you, without interrupting your regular gaming routine. With our 24/7 online support, you'll receive a top-tier 5-star boosting service, eliminating the need to spend hours seeking guides and farming quests and mobs. It usually takes 7-21 days to attain Exalted status, with reputation buffs potentially shortening the duration. In any case, our booster's primary objective is to complete the carry as rapidly as possible.
WoW Reputation Ranks follow this sequence:
Hated —> Hostile —> Unfriendly —> Neutral —> Friendly —> Honored —> Revered —> Exalted.
Below you can find the list of the most significant rewards, which you can purchase from the Dawn-Seeker Krisek, quartermaster of this faction:
ETA:
Average starting time: 1-5 hours
Average Execution time: Order of the Awakened exalted boosting takes 7-21 days
Rewards you will get:
The Exalted rank with faction and access to all factional rewards.
Options available:
Reputation: Choose your current rank with the Order of the Awakened.
Requirements + Important notes:
70 level

character in EU or US server

Account sharing

(an experienced player will securely log into your account and do all the work for you)