The Laughing Skull Orcs Reputation Boost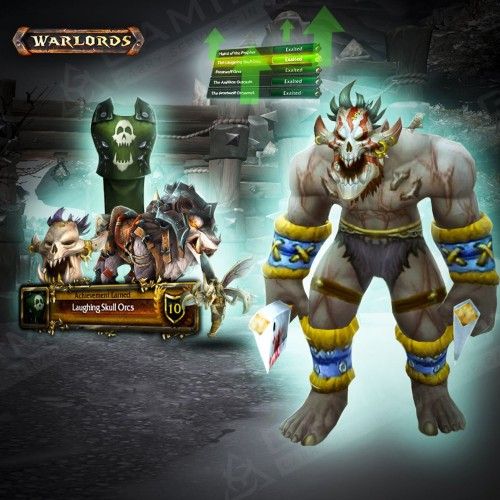 Boosting Schedule
Set the time when the booster may play your account with your manager. We can provide your whole carry while you're AFK without disturbing your usual gaming time!

Hide My Boost
We've developed this unique software to protect you from bans and suspensions. It allows account sharing without flagging an account.

Secure Payments
You can pay securely with PayPal or your Credit Card via Stripe. All payments are covered with the customer protection system and money back guarantee!

Secure Web-site
SSL and HTTPS protocols are used for your 100% privacy & data safety
Introducing our exceptional Laughing Skull Orcs reputation boost service, tailored to increase your standing with the WoW Draenor horde faction across all Dragonflight servers in the EU and US regions. Our adept boosters will skillfully handle your account, undertaking a range of faction-specific questlines and daily challenges until the exalted reputation stage is attained.
Choosing the Laughing Skull Orcs reputation boost will unlock distinctive faction rewards and Laughing Skull Orcs achievement if you decide on the Exalted rank upgrade. This specific upgrade is highly popular among our clients, as it unlocks the most valuable benefits associated with this faction, which we will explain further below.
We supply a vast assortment of Laughing Skull Orcs reputation tier upgrades to suit your needs. Regardless of whether your objective is to advance from Friendly to Exalted or achieve other standing boosts to acquire the Ironside Warwolf, our team is prepared to support you.
Opting for this reputation lvling is the most effective method for avoiding the tedious reputation grinding process, allowing you to swiftly and securely obtain the rewards. Our specialized World of Warcraft boosting service promises a seamless and pleasurable leveling experience, providing a comprehensive, worry-free solution.
The Laughing Skull Orcs Rep Power leveling:
Understanding the process
The entire endeavor is uncomplicated and efficient. After buying The Laughing Skull Orcs reputation leveling service, our coordinator will promptly reach out to you via Skype, Discord, or Email, typically making contact within 5-10 minutes. Alternatively, you can communicate with us 24/7 through Gamingcy on Discord.
You will then coordinate all pertinent details concerning The Laughing Skull Orcs reputation powerleveling for your account, such as the initiation time, preferred playing schedule, and other specifics. Our coordinator will keep you informed throughout the boosting process and inform you via your chosen messaging platform once the task is complete. Say goodbye to grinding WoW reputations for countless hours—invest in a boost and let Gamingcy handle the mundane tasks!
WoW Laughing Skull Orcs Rep Farming:
The Insider Scoop
As devoted gamers, we can assert with complete confidence that the quickest route to Exalted standing with the Laughing Skull Orcs faction is through purchasing an express reputation farming on our platform. It will save you innumerable hours of monotonous quest farming.
We strongly believe online gaming should be enjoyable, evoke positive emotions, and leave you content after each session. High-level World of Warcraft Dragonflight activities (raids, dungeons, arenas) can offer such experiences! However, monotonous reputation quest grinding often lacks excitement and feels more like tiresome office work than engaging entertainment. Dedicating valuable adult gaming time solely to building rep with Laughing Skull Orcs is not the most judicious approach.
A more logical strategy is to delegate the mundane rep grind to an experienced gamer who is familiar with the Warlords of Draenor locations, questlines, mob spawn areas, and the most efficient methods for reaching exalted reputation standing with this faction. A significant additional advantage is that our expert will perform the entire leveling process, at a time convenient for you, without interrupting your regular gaming schedule (you can specify when we can access your character). With our superior 24/7 customer support, you will receive a 5-star, deluxe boosting service rather than squandering hours searching for guides and farming quests and mobs. Typically, it takes 5-7 days to achieve Exalted status, with various reputation buffs potentially hastening the process. Regardless, our booster's primary aim is always to complete the service as rapidly as possible.
WoW Reputation Ranks follow this order:
Hated —> Hostile—> Unfriendly —> Neutral —> Friendly —> Honored —> Revered —> Exalted.
Being gaming enthusiasts ourselves, we appreciate the significance of maximizing pleasure and satisfaction in every gaming session. Our Laughing Skull Orcs reputation power lvling service ensures that you can concentrate on the more captivating aspects of World of Warcraft, entrusting the arduous reputation grinding to our competent boosters. Rely on us to deliver a top-tier, efficient, and seamless experience, enabling you to fully immerse yourself in the game and relish the rewards and achievements that come with an exalted reputation standing.
Below you can find the list of the most significant rewards, which you can purchase from the Kil'rip, quartermaster of this faction:
ETA:
Average starting time: 1-5 hours
Average Execution time: Laughing Skull Orcs exalted boosting takes 5-7 days
Rewards you will get:
Laughing Skull Orcs achievement;
The Exalted rank with faction and access to all factional rewards.
Options available:
Reputation: Choose your current rank with the Laughing Skull Orcs.
Requirements + Important notes:
70 level

horde character in EU or US server

Account sharing

(an experienced player will securely log into your account and do all the work for you)