Mag'har Orc Unlock in Dragonflinght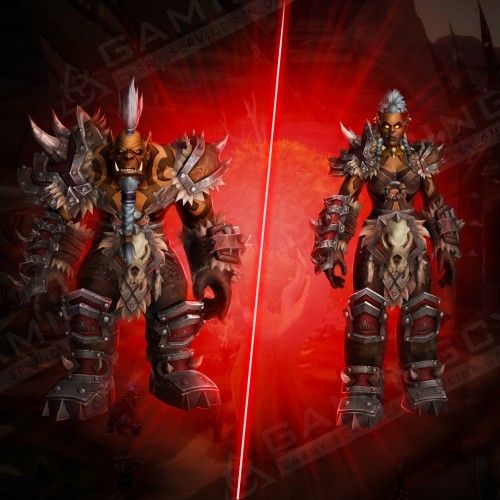 Boosting Schedule
Set the time when the booster may play your account with your manager. We can provide your whole carry while you're AFK without disturbing your usual gaming time!

Hide My Boost
We've developed this unique software to protect you from bans and suspensions. It allows account sharing without flagging an account.

Secure Payments
You can pay securely with PayPal or your Credit Card via Stripe. All payments are covered with the customer protection system and money back guarantee!

Secure Web-site
SSL and HTTPS protocols are used for your 100% privacy & data safety

Enlarge your collections!
An extensive list of unique & rare transmogs makes your gameplay brighter and your whole account more precious!
By buying this service, you will get a fast Mag'har Orc Allied Race unlock in WoW Dragonflight.
Our professional gamer will securely play your account and complete the Mag'har Orc unlock questline. You can also pick the Heritage Armor Set extra option. In this case, we shall additionally get the 50 level for your Mag'har Orc and unlock the Heritage Armor transmog set.
As a result, you will get the fastest Mag'har Orc boost, keeping all the achievements, gold, and other rewards received during the service.
Take advantage of the boosting services provided by Gamingcy. Refresh your WoW gameplay with new racial mounts, racial abilities, incredible heritage armor sets & totally new character models (including cast animations, class pets, and totems)!
Mag'har Orc can be the following classes: Death Knight, Hunter, Mage, Monk, Priest, Rogue, Shaman, or Warrior.
How To Unlock Mag'har Orc Race in Dragonflight?
The answer to this question is simple! Buy unlocking Mag'har Orc in Dragonflight provided by our time-tested experienced gamers.
We know the most effective ways of meeting the Mag'har Orc unlock requirements in the new WoW expansion. Together with an extensive base of professional boosters, it allows us to start and complete any orders quickly. What makes our services even more uncompromising is the special attention to your account's security during the WoW Mag'har Orc boost with our exclusive Hide My Boost software.
Below you can find the list of the Mag'har Orc Racial Traits:
| | |
| --- | --- |
| Name | Spell |
| Ancestral Call | Invoke the spirits of your ancestors granting you their power. Increases a random secondary stat by 102 for 12 seconds. |
| Open Skies | Increases mounted speed by 10%. |
| Savage Blood | Reduces the duration of Poisons, Diseases, and Curses by 10%. |
| Sympathetic Vigor | Increases pet health by 10%. |
ETA:
Average starting time: 1-3 hours
Average Execution time: 4-7 days
Rewards you will get:
Mag'har Orc Allied Race unlocked;
Mag'har Direwolf account-wide mount;
Heritage Armor set (optionally);
You will keep all the gold and rewards that may be received during the boost.
Extra options:
Unlock the Heritage Armor set

: we shall get the 50 level character of the proper race without using instant level upgrades to get a cosmetic Heritage Armor set
Requirements + Important notes:
70 level

horde character in EU or US servers

Account sharing

(an experienced player will securely log into your account and do all the work for you)