WoW Allied Races Bundle Unlocking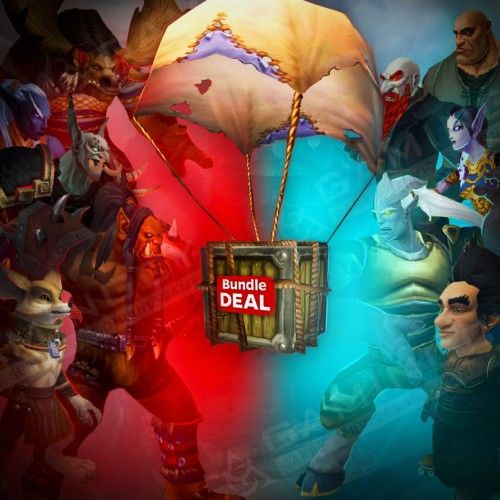 Boosting Schedule
Set the time when the booster may play your account with your manager. We can provide your whole carry while you're AFK without disturbing your usual gaming time!

Package deal!
Save your money: take advantage of buy more - save more mechanics!

Hide My Boost
We've developed this unique software to protect you from bans and suspensions. It allows account sharing without flagging an account.

Secure Payments
You can pay securely with PayPal or your Credit Card via Stripe. All payments are covered with the customer protection system and money back guarantee!

Secure Web-site
SSL and HTTPS protocols are used for your 100% privacy & data safety
By availing yourself of this service, you will gain entry to five Horde or five Alliance Allied races at a discounted bundle price.
Utilize the mechanics of this package deal and enjoy a reduction of up to 20% on the regular cost!
Our expert player will handle your account with the utmost care, performing quest grinds and completing all the required steps to unlock your preferred allied races securely. It includes completing questlines, grinding reputation, and earning the required achievements.
Each Allied race comes with its exclusive mount, achievement, and access to account-wide specialized factional reputation goods.
By purchasing a Horde or Alliance Allied Races Boost option, you can unlock all races of the desired faction quickly and easily.
This boost will allow you to save time and focus on other aspects of the game while still being able to play a great-looking character.
If you need to unlock just some particular allied race - check this service.
ETA:
Average starting time: 1-3 hours
Average Execution time: 1-2 daysper allied race
Options available:
5x Horde Allied races unlocked

(10% cheaper than buying separately)

5x Alliance Allied races unlocked

(10% cheaper than buying separately)

10x Allied races unlocked

(20% cheaper, than buying separately)
Rewards you will get:
Requirements + Important notes:
60 or 70 level

character in EU or US servers

Account sharing

(an experienced player will securely log into your account and do all the work for you)
1x 60 or 70 level

Horde character

if you pick the 5x Horde Allied races unlocking option
1x 60 or 70 level

Alliance character

if you pick the 5x Alliance Allied races unlocking option
1x 60 or 70 level

Horde

and 1x 60 or 70 level

Alliance character

if you pick the 10x Allied Races Unlocking option