Eastern Kingdoms Cup Boost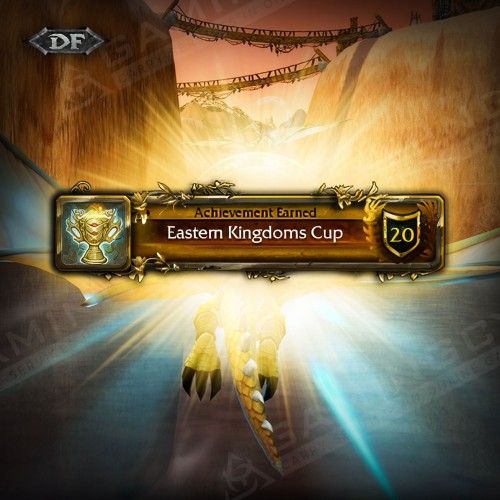 Boosting Schedule
Set the time when the booster may play your account with your manager. We can provide your whole carry while you're AFK without disturbing your usual gaming time!

Hide My Boost
We've developed this unique software to protect you from bans and suspensions. It allows account sharing without flagging an account.

Secure Payments
You can pay securely with PayPal or your Credit Card via Stripe. All payments are covered with the customer protection system and money back guarantee!

Secure Web-site
SSL and HTTPS protocols are used for your 100% privacy & data safety

Enlarge your collections!
An extensive list of unique & rare achievements makes your gameplay brighter and your whole account more precious!
On our platform, you have the option to buy Eastern Kingdoms Cup boost and get all required achievements with a 100% guarantee. Our experienced gaming professionals will securely access your account, diligently earn badges, unlock exciting rewards (including a new title), and complete all races throughout the Eastern Kingdoms event. This service also grants you the prestigious Eastern Kingdoms Completionist: Gold meta-achievement.
What is the Eastern Kingdoms Cup?
The Eastern Kingdoms Cup is an annual worldwide event in the World of Warcraft Dragonflight, offering a unique chance to obtain the Drakewatcher Manuscript, transmog items, and the esteemed Eastern Kingdoms Racer title.
What Races does this event consist of?
The Eastern Kindoms Cuap features a lineup of 14 races, accessible in Normal, Advanced, and Reverse configurations. The list includes:
Ironforge Interceptor (Dun Morogh);

Gurubashi Gala (Stranglethorn Vale);

Redridge Rally (Redridge Mountains);

Deadwing Derby (Deadwing Pass);

Booty Bay Blast (Booty Bay);

Loch Modan Loop (Loch Modan);

Fuselight Night Flight (The Badlands);

Elwynn Forest Flash (Elwynn Forest);

Krazzworks Klash (Twilight Highlands);

Plaguelands Plunge (Eastern Plaguelands);

Twilight Terror (Twilight Highlands);

Searing Slalom (Searing Gorge);

Blasted Lands Bolt (Blasted Lands);

Gilneas Gambit (Gilneas).
How can I purchase Eastern Kingdoms Cup Event Rewards?
These rewards can be acquired using Riders of Azeroth Badges, the primary event currency awarded for participating in Dragonriding races in the Eastern Kingdoms. You can purchase the items listed below from Maztha, who can be found in Valdrakken alongside the Dragonriding Trainer.
Take advantage of the Gamingcy's achievement boosting services to swiftly and effortlessly acquire exceptional rewards!
Eastern Kingdoms Cup Achievements Boosting
Purchase our Eastern Kingdoms Racing Completionist Achievements boosting service at Gamingcy and enjoy the expertise of top PvE solo gamers from around the world. It's widely known that achieving this milestone requires a substantial time investment, a bit of luck, and a demonstration of skill. To bypass the extensive hours of gameplay, consider opting for Eastern Kingdoms Cup power leveling to efficiently conquer various aspects of this meta-achievement.
There are several compelling reasons to make this choice:
Attempting it solo consumes a significant amount of time, equivalent to hours of continuous gameplay.
Learning new mechanics unrelated to the core gameplay becomes necessary.
Investing your time in gearing up and engaging in diverse PvE/PvP activities offers more enjoyment and rewards during this expansion phase.
Avoid the grind of farming Eastern Kingdoms Racing Completionist achievements on your own or with pick-up groups. Save a substantial amount of your time, energy, and resources. Our boosting services simplify the entire process, making it smooth and enjoyable: we will complete any achievement, farm the required number of badges, and purchase the desired rewards from the event vendor on your behalf. Acquire the Eastern Kingdoms Cup unlock through Gamingcy and expand your collection of World of Warcraft achievements and transmogs!
We NEVER use any third-party software or exploits, and we do all the work MANUALLY.
ETA:
Average starting time: 1 hour
Average Execution time: 3-4 hours
Rewards you will get:
Requirements + Important notes:
70 level

character in EU or US servers

Account sharing

(an experienced player will securely log into your account and do all the work for you)
The event must be

active

(2023/10/04 at 12:00 AM - 2023/10/18 at 12:00 AM)