WoW BFA Pathfinder Boost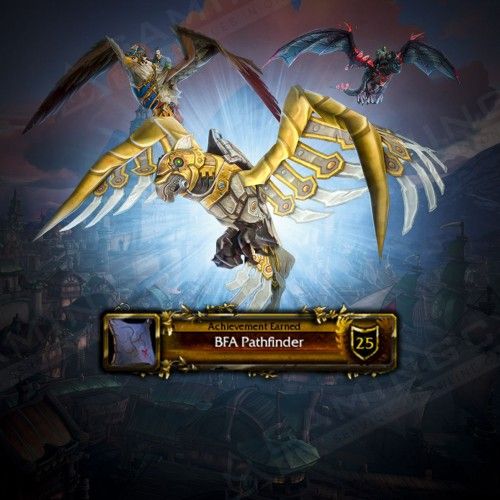 Boosting Schedule
Set the time when the booster may play your account with your manager. We can provide your whole carry while you're AFK without disturbing your usual gaming time!

24/7 support
Get a helpful human reply in ±15 seconds!

Hide My Boost
We've developed this unique software to protect you from bans and suspensions. It allows account sharing without flagging an account.

Secure Payments
You can pay securely with PayPal or your Credit Card via Stripe. All payments are covered with the customer protection system and money back guarantee!

Secure Web-site
SSL and HTTPS protocols are used for your 100% privacy & data safety
On this page of Gamingcy, you can buy Battle for Azeroth Pathfinder achievement boost from our PvE gaming experts. Our skilled professional will handle your account with utmost confidentiality, tackling a range of quests within the BFA storyline to successfully obtain this meta-achievement on your behalf.
Battle for Azeroth Pathfinder is a cornerstone in this World of Warcraft expansion. Completing it doesn't just unlock flying; you'll also unlock the magnificent Wonderwing 2.0 mount as a tangible reward for your efforts.
Choose Gamingcy for your achievement boosts and revel in acquiring exceptional rewards in a manner that is efficient, effortless, and entirely secure. Experience the game like never before, equipped with exclusive perks and the freedom of flight, all without the exhaustive grind!
HOW TO UNLOCK BFA FLYING?
Unlocking flying in World of Warcraft's Battle for Azeroth expansion involves completing a series of achievements that will grant you the "Battle for Azeroth Pathfinder" meta-achievement. The process is spread across two main parts: Battle for Azeroth Pathfinder, Part One and Battle for Azeroth Pathfinder, Part Two.
Battle for Azeroth Pathfinder, Part One
To complete the first part of the Pathfinder achievement, you need to fulfill the following criteria:
Explore Kul Tiras and Zandalar

: You have to explore all the zones in both Kul Tiras (for Alliance) and Zandalar (for Horde).

Complete World Quests:

Finish 100 different World Quests in the aforementioned zones.

Wide World of Quests

: Complete 100 quests in Kul Tiras or Zandalar.

Azerothian Diplomat:

Earn Revered status with the factions of Kul Tiras for the Alliance or Zandalar for the Horde. It usually involves completing questlines and World Quests.

Ready for War (Horde) or Come Sail Away (Alliance)

: Complete the War Campaign for your respective faction.
Battle for Azeroth Pathfinder, Part Two
For the second part, you'll need to accomplish the following:
Explore Nazjatar and Mechagon

: These are the two new zones added in the later patches of Battle for Azeroth.

Reach Revered with the Nazjatar and Mechagon Factions

: Earn Revered reputation with The Unshackled (Horde) or Waveblade Ankoan (Alliance) in Nazjatar and the Rustbolt Resistance in Mechagon.

Complete the Nazjatar and Mechagon Storylines

: Follow through with the main storyline quests in both new zones.
Once you have completed both Part One and Part Two, you will be awarded the Battle for Azeroth Pathfinder meta-achievement, which will unlock flying in all Battle for Azeroth zones, including Kul Tiras, Zandalar, Nazjatar, and Mechagon.
It's a time-consuming work but opens up a lot of conveniences and advantages. Our BFA flying boosting service allows you to complete any part or both quickly and securely.
We NEVER use any third-party software or exploits, and we do all the work MANUALLY.
ETA:
Average waiting time: 1 hour
Average Execution time: up to 3 weeks
Rewards you will get:
Options available:
BFA Pathfinder Part 1 (ETA: 7 days)
BFA Pathfinder Part 2 (ETA: 10 days)
BFA Pathfinder Part 1 + BFA Pathfinder Part 2 (

10% off!

) (ETA: 3 weeks)
Requirements + Important notes:
70 level

character in EU or US server

Account sharing

(an experienced player will securely log into your account and do all the work for you)