WoW Pets Boost
Discover a site where you can buy WoW Pets and toys boosting with real money. We're happy to offer you fast and 100% secure farming services at the best possible prices provided exclusively by professional gamers. They will gladly do any hunting for you and help you expand your collection and unlock rare World of Warcraft pets and toys. Take your gaming to the next level with our fast, hassle-free boost!
Get the most rare WoW pets hassle-free
HideMyBoost system for 100% privacy & security
We can play while you're afk, not interrupting your habitual gaming time.
Battle Pets 25 lvl
Turn-key boost of your Battle Pets to 25 LVL (pick the amount of pets)
Unlock new pet achievements & rewards during the carry
Hunter Spirit Pets
Get the desired Spirit Beast pet(s) to your hunter's collection
Aotona, Arcturis, Gondria, King Krush, Loquenahak, Skoll available
Mail Assistant Toy
Get the Katy's Stampwhistle toy
Send mail from any place in WoW
WoW Pets and Toys Boosts:
All you need to know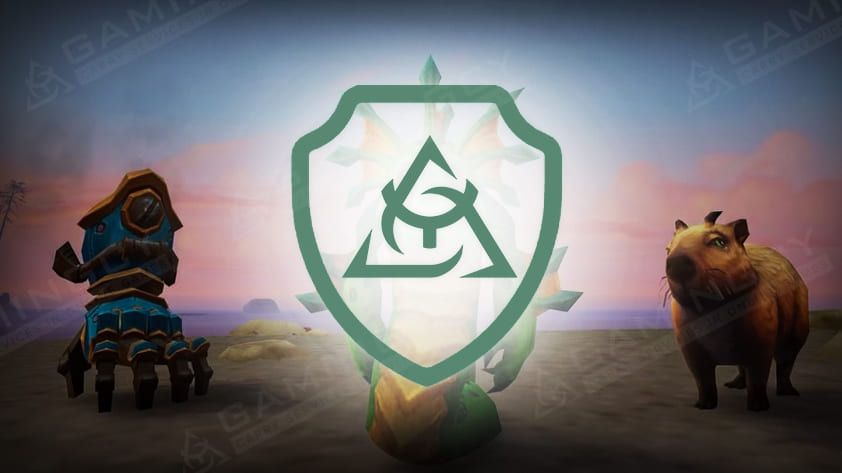 While collecting pets and toys in World of Warcraft can be an exciting and rewarding experience, it can also be time-consuming and challenging. That's where Gamingcy and its boosts come in, offering a comprehensive solution for all your WoW pets and toys collecting needs.
At our site, you can buy almost any WoW pet and toy with real money and get them added to your collection quickly, easily, and with a guarantee. Our boosting services are super-fast and effective, ensuring you can focus on enjoying the game rather than grinding for collectibles. By choosing our shop, you enhance your collectibles list and access a wealth of resources and support to elevate your overall gaming experience.
The World of Warcraft universe is vast, immersive, and filled with countless opportunities for exploration, battles, and personal growth. Among the various activities and collectibles the game offers, pets and toys stand out as a unique and captivating aspect, providing both entertainment and in-game utility. In this comprehensive article, we will delve deeper into the fascinating world of WoW pets and toys, exploring their significance, unlocking methods, and how they can enhance your overall gaming experience. Moreover, we will introduce you to our exceptional platform that can help you expand your collection of pets and toys through easy, effective, and fast boosting services.
WoW Pets Explained:
A few words about Azeroth companions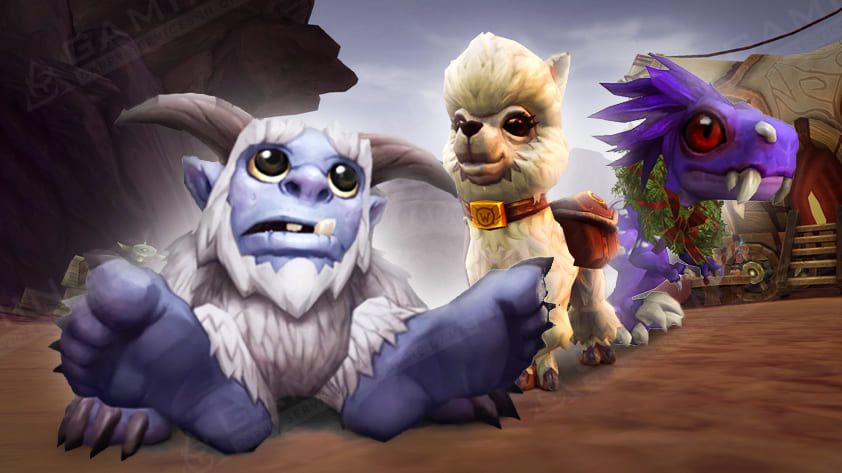 World of Warcraft boasts a plethora of unique and charming pets that players can collect, train, and battle with. These non-combat companions, also known as vanity pets, come in various shapes and sizes, each with a distinct look and personality. Pets can follow players around Azeroth, providing companionship and adding an extra layer of depth to the game.
Battle pets have become a popular aspect of WoW since the introduction of the Pet Battle System in the Mists of Pandaria expansion. This system allows players to engage in turn-based battles against wild or other players' pets, leveling up their pets and collecting rewards. The strategic and competitive nature of pet battles has attracted a dedicated community of players who invest time and effort into building the perfect pet battle team.
To collect pets, players can visit vendors, loot them from defeated enemies (most often, the drop chance is pretty low, so you will have to spend dozens of hours farming), complete quests, or even engage in special events. One more source of the rarest pets in the game is Gamingcy. Some pets are obtained through achievements or promotions, while others are exclusive to certain factions or races. The sheer variety of pets in WoW ensures players can always find a companion to suit their tastes and playstyles.
Our reviews
1/15/2023
Great Service
Great Service. Fast response. Perfect
9/15/2022
The service was very fast and friend...
The service was very fast and friendly. Great value, great folks.
4/15/2023
Perfect Service very fast thanks a l...
Perfect Service very fast thanks a lot
2/7/2023
The BEST wow service boots out there...
The experience from start to finish was outstanding! Everyone was so nice and timely! I would recommend this service (mythic+ run) to anyone! I would definitely...
9/8/2022
Super nice boosted run!
Super nice boosted run! Everything went very well and quickly. I recommend ;)
1/18/2023
great service
the service was great, quick and with good quality. The contact with Gamingcy was responsive aswell, they could answer any doubt / question / demand I had with...
9/30/2022
Was nervous about this
Was nervous about this, and now I know I shouldn't have been. 10/10 all across the board. Absolutely no complaints. Don't hesitate to give this a go!
2/28/2023
Well run and organized raid...
Well run and organized raid. Sadly zero gear was won which is a bummer!
9/28/2022
Great Service - Quick and reliable...
Great Service - Quick and reliable and great communication along the way.
10/3/2022
I bought a wrath of the lich king bo...
I bought a wrath of the lich king classic level boost from 72-80 on September 28th. They got me 2 level 80+ 2k gold, and it only took four days wonderfully done...
6/2/2023
is was good because they helped me i...
is was good because they helped me in game complete my goals with just as the offer included
5/23/2023
Good run done fast
Good run done fast
9/23/2022
Smooth experience
Practical and easy way to get a smooth wow raid or dungeon run in few minutes. Customer support replies almost instantly and guides you through your order until...
10/14/2022
Great player had my character booste...
Great player had my character boosted in just a few hours. Honesty, Integrity, and great communication throughout the entire process, will be back.
10/14/2022
Shadowlands KSM
Ordered the Shadowlands KSM and the team was very helpful and friendly. Was a smooth and fast experience overall, would recommend.
9/25/2022
It was a great experience...
It was a great experience! The only thing that could be better is their prices. Everything is super efficient and fast, and they're reliable and trustworthy :)
10/11/2022
Was worried giving my account up at…...
Was worried giving my account up at first but totally worth it! They're super fast and make it easy! 10/10 recommend!
2/8/2023
I've improved!
I honestly feel like a much better player after my time with the disc priest from your group :)
1/30/2023
Fast
Fast, polite & very helpful.
9/30/2022
Very communicative
Very communicative, and delivered the results as promised. Would consider using again in the future.
Four Strong Reasons to Buy Rare WoW Pets and Toys now
On our website, we take pride in offering services exclusively from seasoned gaming professionals. Our passion for our work ensures we deliver top-notch quality at competitive prices. When you purchase any game carry from us, you can expect a swift, safe, and efficient experience thanks to the innovative and exclusive features we've developed:
Interactive boost scheduling
Exclusive hide-my-boost technology
Instant Get Me a Hot Slot button
easy
Number ONE goal of our team is to make your time spent with us hassle-free and enjoyable
fast
We value your time and perfectly understand how important it is to get your boost right away!
effective
We know everything about online gaming. All of our 2067 boosters are members of top world guilds since early game expansions
safe
Secure Paypal payments;
Verified Trustpilot reviews;
Exclusive Hide My Boost system;
SSL and Https protocols for your 100% privacy and data safety.
What are World of Warcraft Toys?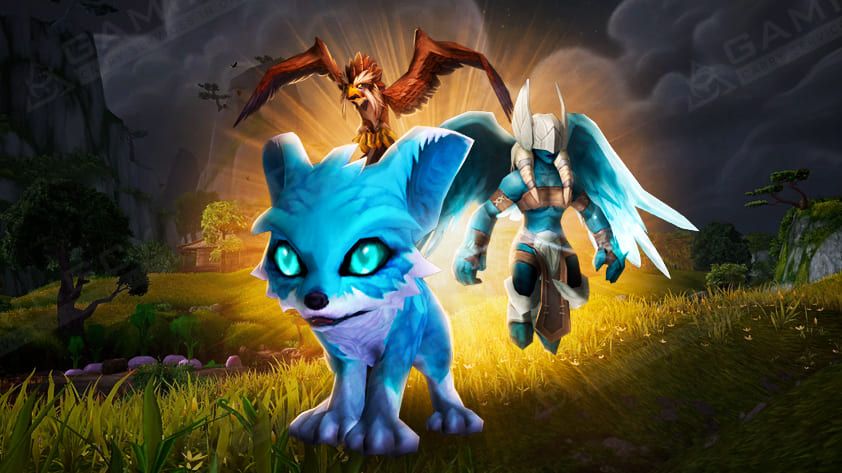 Toys in World of Warcraft are unique items that players can collect and use for fun or practical purposes. These items often have special effects or abilities, providing amusement and utility in certain situations. Toys can be used to entertain fellow players, transform your character's appearance, or even provide helpful buffs during gameplay.
Much like pets, toys can be acquired through various means, such as completing quests, participating in events, or purchasing them from vendors. Some toys are obtainable only during specific periods or limited-time events, making them highly sought-after collectibles.
The Toy Box, introduced in the Warlords of Draenor expansion, allows players to manage their ever-growing toy collection. This account-wide storage system enables players to access their toys across all characters, eliminating the need to store them in individual bags or banks.
Notable WoW Pets and Toys
Some of the most beloved pets in World of Warcraft include the adorable Murky, a baby Murloc; the majestic Celestial Dragon, a reward for collecting 150 unique pets; and the fearsome Anubisath Idol, a popular choice for pet battles. These pets, among many others, have captured the hearts of players due to their unique appearances, abilities, and the challenges associated with acquiring them.
As for toys, some of the most popular and sought-after options include the Gamon's Braid, which transforms the player into the iconic Tauren Gamon; the Magic Pet Mirror, allowing players to take on the appearance of their battle pets; and the S.E.L.F.I.E. Camera, enabling players to capture memorable moments with their characters in the form of in-game selfies.
Tips for Collecting Pets and Toys
If you're looking to expand your collection of pets and toys in World of Warcraft, consider the following tips:
Research

: Familiarize yourself with the various pets and toys available in the game, their sources, and any requirements for obtaining them. Websites, forums, and in-game add-ons can provide valuable information and help you track your collection progress. We highlighted useful add-ons for pet hunting: Pet Tracker, Cancel Pet Fight, NPCScan, and Rarity.

Be Persistent

: Some pets and toys may have a low drop rate or only be available during specific events or limited-time periods. Be prepared to invest time and effort into acquiring these rare collectibles. Or you can use Gamingcy and leave this work to our PRO gamers.

Utilize the Auction House

: Keep an eye on the Auction House for pets and toys you might be missing from your collection. This can be a convenient way to acquire certain items without having to farm them yourself.

Participate in Events

: Many pets and toys are obtainable during special in-game events such as holidays, anniversaries, or expansion pre-launch events. Make sure to take part in these activities to maximize your collection potential.
Enhance Your Pets Collection
with Gamingcy's Boosting Services
World of Warcraft pets and toys offer a fun and engaging aspect of the game, allowing players to express themselves, pursue unique challenges, and enhance their overall gaming experience. With a vast array of collectible pets and toys, you can continuously explore new goals and adventures in the captivating world of Azeroth.
With Gamingcy's professional boosting services, you can effortlessly expand your collection of WoW pets and toys, saving time and enjoying the game to its fullest potential. So, get out there and start collecting, battling, and enjoying the rich and diverse universe of WoW pets and toys with the support and expertise of Gamingcy by your side!
Five Simple Steps to get your WoW Pet Boost
Experience top-notch professionalism and exceptional service quality at Gamingcy:
Benefit from working with a seasoned company that's been in business since 2014, having successfully completed over 200k orders.
Find the perfect time for your boost thanks to our event scheduling, timers, and the convenient "Secure My Spot" button.
Our extensive team of over 2067 proven boosters can initiate and finish your orders faster than any other service.
Expect prompt assistance from our 24/7 human support, with an average response time of just 15 seconds.
Give us a try; we're confident you'll become a loyal customer!
shop
Choose the service you need and add it to the cart. If you have any questions - don't hesitate to ask our 24/7 support team
checkout
Follow the cart's instructions and pay securely with Paypal or with your Credit card!
process
Contact us in Discord, Skype, or Facebook messenger to confirm your order and start the service!
done
Once your service is completed, our manager will immediately inform you about it!
review
Your opinion matters! Share your experience with other customers and help us to improve!