Max WoW Level boost in Retail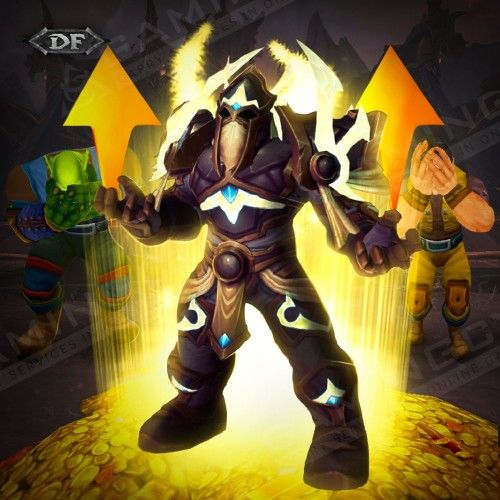 Boosting Schedule
Set the time when the booster may play your account with your manager. We can provide your whole carry while you're AFK without disturbing your usual gaming time!

24/7 support
Get a helpful human reply in ±15 seconds!

Hide My Boost
We've developed this unique software to protect you from bans and suspensions. It allows account sharing without flagging an account.

Secure Payments
You can pay securely with PayPal or your Credit Card via Stripe. All payments are covered with the customer protection system and money back guarantee!

Secure Web-site
SSL and HTTPS protocols are used for your 100% privacy & data safety
By choosing this service, you'll receive a customizable WoW Max level boost from your current lvl.
The most recent dragon-inspired expansion in World of Warcraft, Dragonflight, presents a variety of exciting new features and adventures for players to delve into. One of the most notable updates is the elevated maximum level limit, enabling players to upgrade their characters further and participate in even more demanding content.
With Dragonflight, the maximum level threshold has been increased from 60 to 70, granting players ten additional levels to advance their characters and obtain new skills and equipment. This boost aligns with prior expansions, which generally raise the level limit by ten levels with each new installment.
To achieve the new level cap, players will traverse the Dragon Isles, the focal point of the Dragonflight expansion. In this region, they will face new quests, dungeons, and adversaries while engaging in the expansion's enthralling storyline. Attaining the maximum lvl in Dragonflight grants players access to the most formidable content and further immerses them in the game's rich lore and narrative.
It's crucial to remember that the Dracthyr Evoker, a novel class/race combination introduced in Dragonflight, starts at lvl 58 as a "hero class." This provides players who opt for this pairing a head start on their expedition through the expansion and towards the maximum level of 70.
A skilled player will securely access your account and engage in quests, dungeons, and various activities to carry your retail character(s) to the highest level in World of Warcraft.
Ultimately, your character will reach the level cap, retaining all achievements, gold, and other rewards earned during the service!
Leveling up in World of Warcraft Retail can be a time-consuming and monotonous game aspect (particularly for your alternate characters).
Spare yourself the extensive time and energy by letting us handle the task for you. Purchase a swift boost to Max level in WoW from our seasoned gamers with extensive knowledge of the game and the most efficient farming spots & strategies. Immerse yourself in the most enjoyable high-end gameplay!
Max 70 Level boost in WoW:
What is the process?
The primary purpose of the WoW Maximum Level Boost service is straightforward: we aim to offer our European and American customers the ultimate solution for efficient power leveling in Retail expansion.
This solution ensures that you receive the guaranteed result for your investment while bypassing the infamous grinding process.
The entire procedure is quick and easy:
Add the service to your cart and pay for your WoW Maximum Level Boost using Visa/Mastercard/Crypto.
Following your purchase, connect with your manager via Discord/Skype/Email.
Schedule a convenient boosting time, or begin with the earliest available player.
Our professional gamer will securely access your account and lvl up to the cap 70 level for which you paid (100% guaranteed result).
Once the boost is complete, our manager will promptly inform you of its completion!
We NEVER use any third-party software or exploits, and we do all the work MANUALLY!
ETA:
Average starting time: 1 hour
Average execution time: 1-70: 12 hours (super express), 36 hours (express), or 48 hours
Rewards you will get:
Your character(s) boosted to Max level on WoW retail server (Dragonflight);
Level 70 Achievement;
All the gold, resources, achievements, and other rewards that you may receive during the World of Warcraft cap level boosting.
Additional options:
Express or Super Express:

Your order will have a higher priority, decreasing completion time by 30% or 50%.

Add Professions skill

: Take advantage of this extra option, and get the skill to gathering the profession(s) of your choice!

Add Dragonriding skill:

We will obtain all Talent Points and unlock a full Talent Tree for your character.

Add 8/8 Mythic Dungeons:

Complete all 8 Dragonflight dungeons on mythic difficulty. There is a chance to get 372 ilvl gear.

Add x8 Mythic +10 Dungeons:

Complete 8 dungeons on mythic +10 difficulty. There is a chance to get 418 ilvl gear. Guaranteed 424 ilvl in great vault.

Multiple Characters:

Take advantage of the package deal mechanics, level up

several characters, and save up to 25%!
Requirements + Important notes:
Account sharing

(an experienced player will securely log into your account and do all the work for you)
Active

WoW Dragonflight

account in US or EU servers