WoW Mythic Gear Boost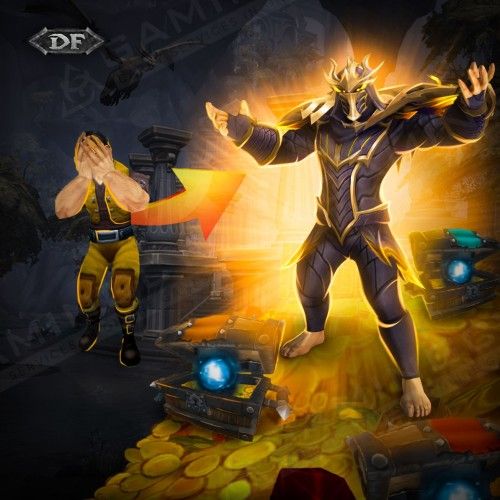 24/7 support
Get a helpful human reply in ±15 seconds!

Package deal!
Save your money: take advantage of buy more - save more mechanics!

Swift start!
The huge team of professional gamers (2067 workers) allows us to begin this service incredibly fast! (15-20 minutes!)

Secure Payments
You can pay securely with PayPal or your Credit Card via Stripe. All payments are covered with the customer protection system and money back guarantee!

Secure Web-site
SSL and HTTPS protocols are used for your 100% privacy & data safety
This offering allows you to buy WoW Mythic gear boost from the best M+ dungeons squads, guaranteeing you a specific ilvl with complete certainty. With Gamingcy, you don't just purchase a carry; you pay for peace of mind and top quality assurance.
Our teams of expert M+ gamers will tirelessly farm Mythic Plus dungeons until you obtain the desired average item level. Our dedicated and proficient players have years of experience, knowledge, and understanding of the World of Warcraft PvE gaming environment:
415 ilvl;
425 ilvl;
435 ilvl.
Our team can make it happen. This offering is not just an optimal solution but a strategic decision for those looking to bypass the tedious PvE gearing phase and jump straight into the action with a super-powerful WoW Dragonflight character. This service will be incredibly beneficial for your alt characters, especially if you're keen to experience high-end content with a new class or looking to experiment with different playstyles.
Seize the opportunity to buy the best PvE dungeons gear in World of Warcraft swiftly and without any complications. All EU and US Retail servers are supported. With Gamingcy, you can farm new Mythic gear and ensure a smoother, more enjoyable gaming experience!
WoW Mythic Plus Gear Boost:
How does it work?
The core concept of this service is to streamline your PvE gaming experience and offer our valued clients a definitive solution for efficient WoW dungeons gearing boost - a one-stop shop for all your World of Warcraft needs.
This comprehensive carry guarantees the desired outcome for the invested money, smartly eliminating the notorious RNG uncertainties with loot drops that often frustrate players. With us, your PvE gear farming will be a smooth and rewarding journey, not Russian roulette.
The entire procedure is designed to be as quick, user-friendly, and straightforward as possible:
Begin by selecting the PvE Mythic item level you wish to get during the carry. We offer a range of options catering to different player preferences and goals.
Add it to your cart and make a secure payment for your M+ dungeon gear boost via various modes like Visa/Master card/Crypto.
After successful payment, contact your dedicated manager via Discord/Skype/Email. This personalized communication ensures that all your queries and concerns are promptly addressed.
Together, you and your manager will schedule the most suitable time for the Mythic gear farming service, or you can opt to begin with the earliest available PvE group.
Engage in productive farming sessions in M+ dungeons with our team until you attain the item level that you had purchased (100% guaranteed outcome)
After completing the WoW Mythic+ gearing service, you enjoy the thrill and satisfaction of wielding a

strong PvE character

! This service ensures you have the best equipment for your WoW adventures, enhancing your overall gameplay experience.
What Is The Cost Of The Mythic Gearing Boost?
Regarding pricing, we follow a customer-centric approach: while structuring our M+ gear boosting offerings, we always aim to provide the highest value at a reasonable cost, balancing affordability and quality.
Our carries are priced competitively since we collaborate with over 2000 professional gamers globally. This extensive network of expert gamers allows us to establish fair and competitive prices for our WoW Dungeon gearing. Furthermore, we regularly hold time-limited sales to provide maximum value to our customers. These offers make your purchase even more beneficial, adding further savings to your WoW PvE gearing experience.
With our Mythic+ ilvl boost, you can swiftly, cheaply, and stress-free surpass your friends and guild mates' Dragonflight progress. Join Gamingcy today, and embark on a WoW journey unmatched in its excitement and rewards!
Options & ETAs:
415 item level: ± 7 days
425 item level: ± 1-3 weeks
435 item level: ± 3-4 weeks
Requirements + Important notes:
70 level

character in EU or US server.

Selfplay

(you will play your character yourself with a group of our professional player(s)).
It's

the Average item level

that we shall provide to you.
For example, some items may be of 390 item level, others of 410 item level, and you will have 400 average item level.