The Tortollan Seekers Reputation Boost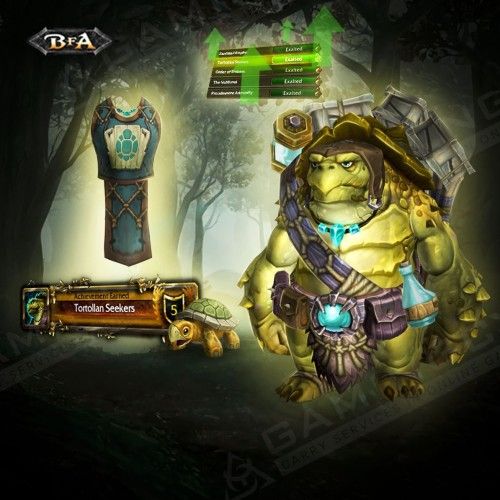 Boosting Schedule
Set the time when the booster may play your account with your manager. We can provide your whole carry while you're AFK without disturbing your usual gaming time!

Hide My Boost
We've developed this unique software to protect you from bans and suspensions. It allows account sharing without flagging an account.

Secure Payments
You can pay securely with PayPal or your Credit Card via Stripe. All payments are covered with the customer protection system and money back guarantee!

Secure Web-site
SSL and HTTPS protocols are used for your 100% privacy & data safety
This product offers our customers an opportunity to buy a rep boost for the Tortollan Seekers faction in the WoW BFA game. By using our professional boosting service, your account will be played securely, with our booster completing various factional quest lines and daily quests until your character reaches the Exalted Rep level.
If you choose to buy the Tortollan Seekers rep farming service, you will gain access to unique factional rewards, as well as the Tortollan Seekers achievement if you opt for the Exalted rank boost. We provide a range of options for rep farming, allowing you to go from friendly to Exalted or to upgrade your standing in other ways, including Paragon, in order to obtain the Tabard of the Tortollan Seekers or Bowl of Glowing Pufferfish toy.
Our service is designed to eliminate the tedious process of rep grinding, enabling you to reach your desired rewards quickly and securely. Our professional World of Warcraft boosting team will handle the entire process, making the whole leveling process hassle-free and enjoyable for you.
The Tortollan Seekers Rep Power leveling:
How does it work?
Once you purchase The Tortollan Seekers rep leveling service, the entire process will be swift and straightforward. Our manager will promptly reach out to you via Skype, Discord, or email, typically taking only 5-10 minutes to make contact. Moreover, our Discord contact, Gamingcy, is available 24/7 for your convenience.
During this contact, you'll be able to discuss and finalize all the necessary details related to The Tortollan Seekers reputation power leveling in your account. This includes determining the starting time, creating a convenient playing schedule, and addressing any other pertinent concerns you may have.
Throughout the boosting process, our diligent manager will keep you informed of the progress and provide updates regularly via your preferred messaging platform. Once the job is completed, our manager will notify you immediately.
Never again do you have to spend hours upon hours grinding WoW reputations. Instead, you can choose to buy a boost and leave all the tedious routines to the professionals at Gamingcy!
WoW Tortollan Seekers Rep Farming:
What no one tells you
If you've ever seen a player riding one of World of Warcraft's incredible factional mounts or donning a super-stylish tabard, you may have found yourself wondering how they obtained these prestigious items. After a bit of research, the question on your mind will likely be, "What's the fastest and easiest way to reach exalted status with Tortollan Seekers?" The answer is simple: purchase our rep boost service at Gamingcy.com!
We believe that online gaming should be fun, providing players with a sense of accomplishment and joy after each session. World of Warcraft's high-level activities, such as raids, dungeons, and arenas, can certainly deliver these feelings. However, the grind of reputation quests can quickly turn into tedious work, rather than an exciting form of entertainment. Spending countless hours grinding away at reputation quests is simply not the most efficient use of your time.
Instead, it makes far more sense to leave the grind to an expert gamer who knows the ins and outs of Zandalar & Kul' Tiras questlines, mob spawn locations, and the quickest path to exalted reputation. Our boosters will complete the entire leveling process at a time that is convenient for you, without disrupting your usual gaming schedule. With our 24/7 online support, you can rest assured that you will receive a premium, five-star boosting service, without the need to waste hours searching for guides and farming quests and mobs. Depending on various reputation buffs, reaching exalted status typically takes just 7-21 days. Regardless, our boosters will always work to provide the quickest possible service.
By using our rep boost service, you can skip the dull farming and get straight to the incredible rewards, including profession goodies, pets, tabards, and mounts. World of Warcraft reputation ranks follow a logical progression: Hated, Hostile, Unfriendly, Neutral, Friendly, Honored, Revered, and Exalted. At our site, you can purchase upgrades to any reputation level, including Paragon. For every 10,000 rep points earned above Exalted, you will receive a supplies quest and a Tortollan Seekers Supplies, which may contain a Bowl of Glowing Pufferfish.
Below you can find the list of the most significant rewards, which you can purchase from the Collector Kojo, quartermaster of this faction:
ETA:
Average starting time: 1-5 hours
Average Execution time: Tortollan Seekers exalted boosting takes 7-21 days
Rewards you will get:
Tortollan Seekers achievement;
The Exalted rank with faction and access to all factional rewards.
Options available:
Reputation: Choose your current rank with the Tortollan Seekers. You can choose the «Only Paragon» option if you already have the Exalted standing with this faction and only want to get paragon chests boost.
Paragon: Choose the desired amount of paragon chests. We will farm 10,000 Reputation points after the Exalted standing and get the Tortollan Seekers Supplies for you.
Requirements + Important notes:
70 level

character in EU or US server

Account sharing

(an experienced player will securely log into your account and do all the work for you)