The Rustbolt Resistance Reputation Boost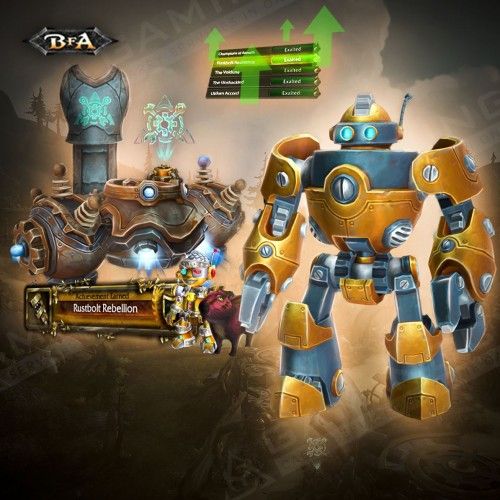 Boosting Schedule
Set the time when the booster may play your account with your manager. We can provide your whole carry while you're AFK without disturbing your usual gaming time!

Hide My Boost
We've developed this unique software to protect you from bans and suspensions. It allows account sharing without flagging an account.

Secure Payments
You can pay securely with PayPal or your Credit Card via Stripe. All payments are covered with the customer protection system and money back guarantee!

Secure Web-site
SSL and HTTPS protocols are used for your 100% privacy & data safety
This service provides you with the opportunity to buy a rep boost for the Rustbolt Resistance, a neutral faction in the WoW BFA game. By availing of this service, you will unlock access to a trove of unique rewards and the prestigious The Rustbolt Rebellion achievement.
Who is the Rustbolt Resistance?
The Rustbolt Resistance is a faction in the World of Warcraft, specifically in the "Battle for Azeroth" expansion. This faction is located in Mechagon, a zone in the game. The Rustbolt Resistance is made up of mechanized gnomes and other mechanical creatures who oppose the tyranny of King Mechagon, who seeks to mechanize and control all of the gnomes.
How Does the Rustbolt Resistance Rep Leveling Work?
Our PRO gamer will meticulously navigate your account, diligently completing factional quest lines and daily missions until you achieve the Exalted level. We are proud to offer a wide range of rep farming packages, whether you wish to progress from Neutral to Exalted, or any other rep standing upgrades, including the prestigious Paragon rank, which will grant you access to coveted items such as the Rustbolt Resistance Tabard and Rustbolt Resistor mount.
The Rustbolt Resistance Rep Power leveling:
How does it work?
The entire process is quick and easy.
After buying Rustbolt Resistance rep leveling service, our manager will promptly contact you via Skype/Discord/Email.
It typically takes us

5-10 minutes

to connect. You can also reach us 24/7 via Gamingcy Discord.
During the conversation, you will discuss all the details about Rustbolt Resistance reputation power leveling on your account: start time, suitable playing schedule, and other specifics.
Our manager will keep you informed during the boosting process and immediately notify you via your preferred messenger when the job is complete.
WoW Rustbolt Resistance Rep Farming:
What no one tells you
Why you should consider buying this service?
At Gamingcy, we believe that online games should bring joy and positivity, leaving you feeling happier after each gaming session. Engaging in high-level activities, such as raids, dungeons, and arenas, can provide the excitement and enjoyment you seek in WoW. However, grinding reputation quests is more akin to tedious routine work, akin to a day job, than entertaining gameplay. Wasting valuable gaming time to build rep with Rustbolt Resistance is not the most sensible use of your time as a grown-up.
It's much wiser to entrust the boring rep grind to an expert gamer who knows the ins and outs of Mechagon, including questlines, mob spawn locations, and the quickest way to reach exalted status with this faction. Furthermore, we will handle the entire leveling process for you, at a time that is convenient for you, without disrupting your usual gaming schedule. Our 24/7 online support team will ensure you receive a premium 5-star boosting service, saving you from hours of scouring guides and farming quests and mobs.
How much time will I save?
Typically, it takes 7-14 days to reach exalted status, but various reputation buffs may hasten the process. Regardless, our primary objective is to provide the carry in the quickest possible manner.
WoW Reputation Ranks follow this structure:
Hated —> Hostile —> Unfriendly —> Neutral —> Friendly —> Honored —> Revered —> Exalted. Upon accumulating 10,000 rep points above Exalted status, you'll unlock a supplies quest and receive a Rustbolt Supplies item.
The Rustbolt Resistance Quartermaster and location
Stolen Royal Vendorbot <Rustbolt Quartermaster> is the factional quartermaster and the primary vendor: visit him to buy exclusive items that get unlocked at certain reputation levels. You can find him at 73.6 36.6 coordinates in Mechagon location.
Below you can find the list of the most significant rewards, which you can purchase from the Stolen Royal Vendorbot, quartermaster of this faction:
ETA:
Average starting time: 1-5 hours
Average Execution time: Rustbolt Resistance exalted boosting takes 7-14 days
Rewards you will get:
Options available:
Reputation: Choose your current rank with the Rustbolt Resistance. You can choose the «Only Paragon» option if you already have the Exalted standing with this faction and only want to get paragon chests boost.
Paragon: Choose the desired amount of paragon chests. We will farm 10,000 Reputation points after the Exalted standing and get the Rustbolt Supplies for you.
Requirements + Important notes:
70 level

character in EU or US servers

Account sharing

(an experienced player will securely log into your account and do all the work for you)