Timewalking Dungeons Boost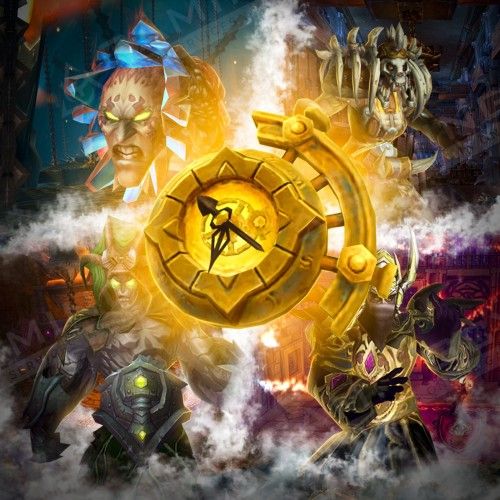 24/7 support
You can pay securely with PayPal or your Credit Card via Stripe. All payments are covered with the customer protection system and money back guarantee!

Swift start!
The huge team of professional gamers (2067 workers) allows us to begin this service incredibly fast! (15-20 minutes!)

Secure Payments
You can pay securely with PayPal or your Credit Card via Stripe. All payments are covered with the customer protection system and money back guarantee!

Secure Web-site
SSL and HTTPS protocols are used for your 100% privacy & data safety
Here you can buy Timewalking Dungeons boost in WoW Dragonflight expansion. All runs are done exclusively by PRO gamers from the most trusted and respected PvE guilds and statics. It's the fastest way to complete the weekly timewalking quest, get a bunch of [Timewarped badge]s, and have a chance to try your luck and get the Reins of the Infinite Timereaver mount.
Even though it's simple PvE content from the long-forgotten World of Warcraft expansions, it still can give a lot of unpleasant difficulties, especially with newbies in your group. Moreover, if you go there to receive badges or low-drop chance items, the process will be very grindy and time-consuming. Sometimes you will have to complete dozens or even hundreds of old World of Warcraft instances before you finally get the desired reward. That's why we find the idea of Timewalking dungeons buying super-smart: it will save you time and money! Another good factor that matters is that the loot you receive during the event will be scaled to the current level of your character (70 lvl). For this reason, purchasing this carry will be handy if you need to gear up a fresh toon.
This service is available while the proper WoW Timewalking event is active.
WoW Timewalking Schedule 2023
Expansion

Dungeons list (random)

Dates

The Burning Crusade

Magisters' Terrace, The Underbog, The Shattered Halls, Mana-Tombs, The Botanica, Old Hillsbrad Foothills, The Blood Furnace, Sethekk Halls, The Black Morass, The Slave Pens, Hellfire Ramparts, The Steamvault, The Arcatraz, Auchenai Crypts, Shadow Labyrinth, The Mechanar
February 14 - February 21
June 20 - June 27
October 24 - October 31

Wrath of the Lich King

The Culling of Stratholme, Utgarde Pinnacle, Utgarde Keep, The Oculus, Pit of Saron, The Forge of Souls, The Nexus, Drak'Tharon Keep, Halls of Reflection, Halls of Lightning, Halls of Stone, Gundrak, Azjol-Nerub, Ahn'kahet: The Old Kingdom, The Violet Hold
March 7 - March 14
July 11 - July 18
November 14 - November 21

Cataclysm

The Stonecore, Zul'Gurub, Hour of Twilight, Lost City of the Tol'vir, Zul'Aman, Blackrock Caverns, The Vortex Pinnacle, Grim Batol, End Time, Halls of Origination, Throne of the Tides, Well of Eternity, The Nexus
March 28 - April 4
August 1 - August 8
December 5 - December 12

Mists of Pandaria

Temple of the Jade Serpent, Scholomance, Scarlet Halls, Mogu'shan Palace, Stormstout Brewery, Scarlet Monastery, Siege of Niuzao Temple, Shado-Pan Monastery, Gate of the Setting Sun
April 18 - April 25
August 22 - August 29
December 24 - January 2

Warlords of Draenor

Shadowmoon Burial Grounds, Upper Blackrock Spire, The Everbloom, Skyreach, Iron Docks, Auchindoun, Bloodmaul Slag Mines, Grimrail Depot
January 3 - January 10
May 9 - May 16
September 12 - September 19

Legion

Court of Stars, Halls of Valor, Return to Karazhan, The Arcway, Eye of Azshara, Neltharion's Lair, Maw of Souls, The Seat of the Triumvirate, Vault of the Wardens, Cathedral of Eternal Night, Violet Hold, Black Rook Hold, Darkheart Thicket
Jan 24 - Jan 31
May 30 - June 6
October 3 - October 10
WoW Dungeons Timewalking Carry:
What does it imply?
This service implies express run(s) with our PRO gamers through the desired amount of dungeons during the WoW Dragonflight Timewalking event. After you buy the Timewalking dungeons carry, our manager will contact you via Skype/Discord/Email.
It usually takes us 5-10 minutes to get in touch. You can also contact us 24/7 via Gamingcy Discord.
There you will arrange all the details of your boosting: starting time, how to join the right group, and other information.
This service is a perfect solution for the World of Warcraft Dragonflight collectibles enthusiasts: it will save dozens of hours of your time and allow you to get new mounts, transmogs, and achievements. You will also be pleasantly surprised by the price: we're the biggest boosting community in the US (North America, Oceania, Latin America) and EU regions, which allows us to follow a cheap pricing policy.
Here's the list of the most valuable Timewalking Dungeons gear and rewards:
Pay for the WoW Timewalking Dungeons boosts by Gamingcy, and enlarge your collections at the best prices on the market!
ETA:
Average starting time: 1 hour
Average execution time: 20-30 minutes per dungeon
Rewards you will get:
Requirements + Important notes:
60+ level character

in EU or US server
At least 174+ item level
The time walking event must be

active