Shadowflame Crest Farming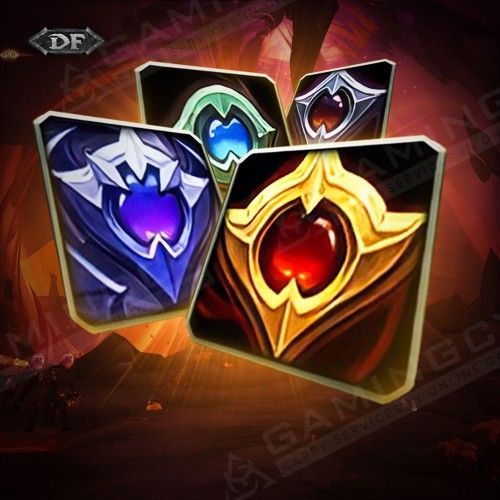 Boosting Schedule
Set the time when the booster may play your account with your manager. We can provide your whole carry while you're AFK without disturbing your usual gaming time!

24/7 support
Get a helpful human reply in ±15 seconds!

Secure Payments
You can pay securely with PayPal or your Credit Card via Stripe. All payments are covered with the customer protection system and money back guarantee!

Secure Web-site
SSL and HTTPS protocols are used for your 100% privacy & data safety
At Gamingcy, we provide a unique chance to obtain a fast WoW Shadowflame Crest farming service. With this boost, a skilled gamer will manage your account, engaging in various activities like World Quests, Treasures, Rares, Zaralek Cavern weekly events, and Mythic+ dungeons to collect the desired amount of this in-game currency on your behalf.
In World of Warcraft Dragonflight Embers of Neltharion expansion, a new in-game currency called Shadowflame Crests has emerged, playing a pivotal role in improving characters and their gear.
Shadowflame Crests come in four unique varieties:
Whelping's - allows you to upgrade gear up to 411 item level;
Drake's - 424 ilvl;
Wyrm's - 437 ilvl;
Aspect's - 441 ilvl.
Each corresponds to a specific difficulty level. Players must keep in mind that the acquisition of these Crests is limited by a weekly cap, allowing them to collect 150 Crest Fragments (equivalent to 10 Crests) of each type every week. As the season unfolds, this cap is expected to rise.
One of the key purposes of Shadowflame Crests lies in gear improvement. For example, Drake's Shadowflame Crest upgrades Veteran/Champion Dragonflight Season 2 items, boosting their ilvl from 415-424. The range of Crest types ensures that players can upgrade their equipment according to the difficulty levels they have achieved within the game.
Furthermore, these Crests also function as crafting components. Enchanters can use Shadowflame Crests to produce Enchanted Shadowflame Crests, which determine the item level range of crafted equipment pieces.
Regarding inventory management, the design of Shadowflame Crests and Shadowflame Crest Fragments simplifies the process for players. Stored within the player's reagent bag, these items can stack, minimizing inventory clutter. Consequently, players can devote their attention to strategic gameplay without being bogged down by inventory organization.
Our platform is the perfect solution for those looking to acquire a Shadowflame Crest farm in Dragonflight Season 2. Our expert boosters are proficient in the most effective methods for farming any currency in World of Warcraft. You can be confident that your task will be accomplished with remarkable speed and unmatched expertise. With our assistance, you can reap the benefits of your valuable Shadowflame Crest without the inconvenience or time investment required to farm it independently.
WoW Shadowflame Crest Boost: What's the Process?
Upon completing your payment for the Shadowflame Crest boost, a dedicated manager will swiftly contact you through Discord/Skype/Email. Our average response time ranges between 3-5 minutes. If you'd rather not wait, feel free to add Gamingcy to your Discord friends list. You will discuss all essential information about your WoW Dragonflight Shadowflame Crest enhancement, including the start time, appropriate play schedule, and other specific requirements.
Buying WoW Shadowflame Crests with real currency is smart for players who want immediate access to the fantastic rewards tied to this currency while avoiding the tedious grinding process alone or with random groups.
You can upgrade your gear up to 441 item level.
Purchase WoW Shadowflame Crest boosting from Gamingcy to bypass countless hours of tedious, repetitive labor. Improve your gaming experience with our swift, seamless, and trouble-free currency grinding service, expertly carried out by top players from the EU and US gaming communities. Say goodbye to endless hours spent farming WoW crests – invest in a boost and let Gamingcy handle the routine tasks for you!
ETA:
Average starting time: 1 hour
Average Execution time: 2-5 hours per crest
Rewards you will get:
The desired amount of

Shadowflame Crest

;
All the rewards that you may receive during the boost will be yours.
Requirements + Important notes:
70 level

character in EU or US servers

Account sharing

(an experienced player will securely log into your account and do all the work for you)