Grand Black War Mammoth Mount Farming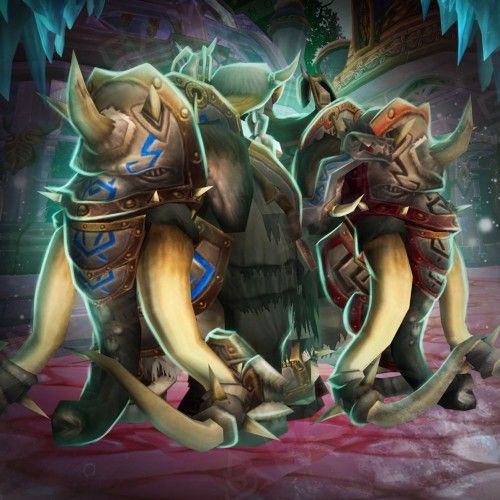 Boosting Schedule
Set the time when the booster may play your account with your manager. We can provide your whole carry while you're AFK without disturbing your usual gaming time!

Hide My Boost
We've developed this unique software to protect you from bans and suspensions. It allows account sharing without flagging an account.

Secure Payments
You can pay securely with PayPal or your Credit Card via Stripe. All payments are covered with the customer protection system and money back guarantee!

Secure Web-site
SSL and HTTPS protocols are used for your 100% privacy & data safety

Enlarge your collections!
An extensive list of unique & rare mounts makes your gameplay brighter and your whole account more precious!
This service lets you buy Grand Black War Mammoth WoW mount farming for real money. We're providing this service in WotLK Classic and Dragonflight expansions. Both EU and US regions are supported. Professional PvE gamers with a solid raiding background provide all carries at our site.
Our professional gamer will securely play your account and provide an easy and smooth Grand Black War Mammoth boost: he will perform fast mount runs (as many attempts as you pay for) to grant you a chance to get the Reins of the Grand Black War Mammoth item. For 100% sure it will be a genuine pearl in your collectibles list.
Account sharing will be required: our PRO gamer will play your character during the carry. We always strive to make our carries 100% secure and enjoyable for the customers. In case of the acc-sharing, we'll use a premium VPN of your country+city or an exclusive Hide-My-Boost technology. It conceals that somebody else besides you has ever logged into your account. A personal stream is also available by request. For 100% sure it will be a genuine pearl in your Wrath Classic or Retail collectibles list. It allows you to carry two passengers, so having this mount may be the beginning of exciting adventures with your friends.
Pick the number of runs in the options field, pay per try, and enjoy the buy more - save more mechanics (up to 15% discount)!
Farming Grand Black War Mammoth mount may be long and tedious because it has a 1% drop chance (it drops from any boss in the Vault of Archavon raid). Each attempt takes 30-40 minutes. Remember that you're paying for a chance to get this World of Warcraft mount, not a guaranteed drop.
WoW Grand Black War Mammoth mount boost at Gamingcy is an excellent opportunity to save money and effort: buy multiple attempts, and try your luck without wasting much time on the preparations and the run. It's very complicated in the Wrath of the Lich King realities: your faction should control the Wintergrasp, and you need to find a raid team, defeat the boss, and win the roll competitors. In Dragonflight (Retail), each run is much faster, but the low drop chance and considerable distances in the Northrend that you'll have to cover, make the mount's farming very grindy. You can try your luck once a week per boss (there are four bosses in the VoA raid). Alt characters may speed up the process.
All the WoW gold and other rng-based Vault of Archavon rewards that may be received during the carry are yours to keep. In WotLK Classic, its super-useful powerful equipment, mainly with set bonuses, will turbo-charge your character's stats. While in retail, it's an extra opportunity for superb transmogrification.
Grand Reins of the Grand Black War Mammoth Boost:
How does it work?
After you pay for Reins of the Grand Black War Mammoth boost, your manager will immediately contact you via Discord/Skype/E-mail. There you will arrange all the details about your carry: starting time, convenient playing schedule, and other nuances.
Grand Black War Mammoth is a rare mount that drops from any bosses of the Vault of Archavon raid, with a ~1% drop chance.
You can get your loot from the Vault of Archavon bosses once a week.
If you have alt characters, the process may be faster. Buy the Grand Black War Mammoth boost by Gamingcy, and skip the tedious mount grinding.
This service is a perfect solution for the World of Warcraft collectibles enthusiasts: it will save dozens of hours of your time and allow you to get the rarest low drop chance WotLK mounts stress-free. Leave the Grand Black War Mammoth farming to our professional WoW Gamers!
We NEVER use any third-party software or exploits, and we do all the work manually.
ETA:
Average starting time: 1-3 hours
Average Execution time: 30 minutes per run
Rewards you will get:
A chance to get Grand Black War Mammoth mount;

Vault of Archavon raid completed;

A chance to get transmogs from the Vault of Archavon raid;
All the loot and gold received during the boost are yours to keep.
Options available:
WoW Expansion:

choose the game that you're playing and need your boost on (Retail or WotLK Classic).
Requirements + Important notes:
You should understand and accept that mount drops are not guaranteed.

You're paying for runs: the more runs you buy - the more chances you have to get the
desired mount.
If you were lucky and the mount dropped earlier than you expected - we will provide a partial
refund or coupon code for the appropriate sum of money.

70 level

character in Dragonflight EU or US server

80 level

character in WotLK Classic EU or US server

Account sharing

(an experienced player will securely log into your account and do all the work for you)