The Conjurer Margoss Reputation Boost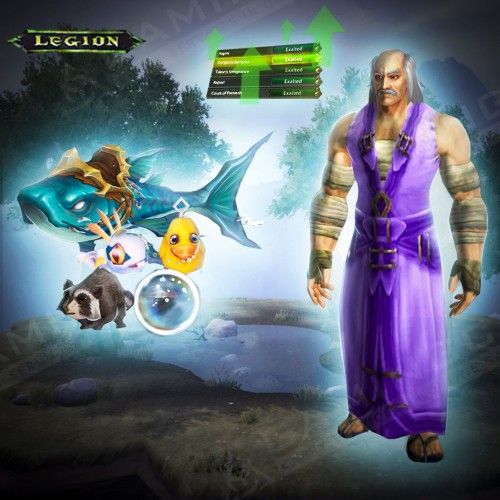 Boosting Schedule
Set the time when the booster may play your account with your manager. We can provide your whole carry while you're AFK without disturbing your usual gaming time!

Hide My Boost
We've developed this unique software to protect you from bans and suspensions. It allows account sharing without flagging an account.

Secure Payments
You can pay securely with PayPal or your Credit Card via Stripe. All payments are covered with the customer protection system and money back guarantee!

Secure Web-site
SSL and HTTPS protocols are used for your 100% privacy & data safety
This service enables you to purchase the Conjurer Margoss reputation boost, a WoW Legion neutral faction.
We offer our carries on all Dragonflight servers in the EU and US regions. Our expert booster will securely access your account, completing various faction quests and daily tasks to achieve the Best Friend reputation level.
By acquiring the Conjurer Margoss rep farming service, you will gain access to exclusive faction rewards. This type of boost is highly sought-after by our customers due to the desirable benefits of this faction: we'll discuss them in more detail below. We provide a range of Conjurer Margoss rep level upgrades for purchase. Whether you wish to progress from Pal to Best Friend or any other standing to obtain Brinedeep Bottom-Feeder, we're here to help.
Purchasing this reputation power lvling is the quickest way to bypass tedious rep grinding and securely access amazing rewards. Our professional World of Warcraft boosting service ensures a smooth and enjoyable leveling experience: we'll handle the entire job from start to finish.
The Conjurer Margoss Rep Power leveling:
How does it work?
The entire process is quick and seamless. After purchasing The Conjurer Margoss rep leveling service, our manager will promptly contact you via Skype/Discord/Email. We typically connect within 5-10 minutes, but you can also reach us 24/7 via Gamingcy on Discord.
During this interaction, you will discuss all details about The Conjurer Margoss reputation power leveling on your account, including start time, convenient play schedule, and other specifics.
Our manager will keep you informed throughout the boosting process and instantly notify you via your preferred messenger when the job is complete. Say goodbye to lengthy WoW reputation grinds; buy a boost and let Gamingcy handle the routine!
WoW Conjurer Margoss Rep Farming:
What you haven't been told
As devoted gamers, we can confidently declare that the fastest way to attain Best Friend status with the Conjurer Margoss faction is to purchase an express reputation boost from our site. This will allow you to avoid hours of monotonous quest farming.
We believe online games should provide fun, positivity, and a sense of accomplishment after each session. World of Warcraft Dragonflight high-level activities (raids, dungeons, arenas) can offer this, but can the same be said for tedious reputation quest grinding? It's more akin to a dull office job than an engaging form of entertainment. Spending precious adult gaming time on building rep with Conjurer Margoss isn't the most rational choice.
It's wiser to delegate the mundane rep grind to an expert gamer who knows Dalaran Sewers locations, questlines, mob spawn points, and the quickest way to reach Best Friend reputation standing with this faction. Another crucial aspect is that our professional will handle the entire leveling process, accommodating your schedule without interrupting your regular gaming time. Thanks to our exceptional 24/7 online support, you'll receive a premium 5-star boosting service, saving you from hours spent searching for guides, farming quests, and mobs. Reaching Best Friend standing typically takes 3-12 hours, though various reputation buffs can accelerate progress. In any case, our booster's primary goal is always to deliver the carry in the fastest possible manner.
WoW Reputation Ranks follow this order:
Stranger —> Pal —> Buddy —> Friend —> Good Friend —> Best Friend.
Below you can find the list of the most significant rewards, which you can purchase from the Conjurer Margoss, quartermaster of this faction:
ETA:
Average starting time: 1-5 hours
Average Execution time: The Conjurer Margoss Best Friend boosting takes 3-12 hours
Rewards you will get:
The Best Friend with faction and access to all factional rewards.
Options available:
Reputation: Choose your current rank with the Conjurer Margoss.
Requirements + Important notes:
70 level

character in EU or US server

Account sharing

(an experienced player will securely log into your account and do all the work for you)