The Armies of Legionfall Reputation Boost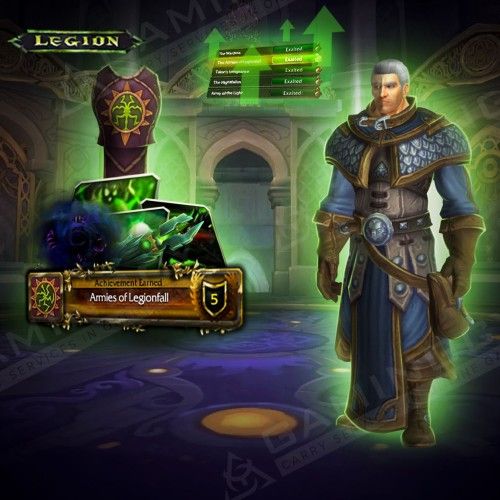 Boosting Schedule
Set the time when the booster may play your account with your manager. We can provide your whole carry while you're AFK without disturbing your usual gaming time!

Hide My Boost
We've developed this unique software to protect you from bans and suspensions. It allows account sharing without flagging an account.

Secure Payments
You can pay securely with PayPal or your Credit Card via Stripe. All payments are covered with the customer protection system and money back guarantee!

Secure Web-site
SSL and HTTPS protocols are used for your 100% privacy & data safety
This service provides an opportunity to purchase a boost in reputation with the Armies of Legionfall, a neutral faction in World of Warcraft's Legion expansion. Our team of professional boosters will securely access your account and complete various factional quest lines and daily quests until your reputation reaches the Exalted level. By purchasing this boost, you will gain access to unique factional rewards and earn the coveted Armies of Legionfall achievement if you select the Exalted rank boost.
We offer flexible options for Armies of Legionfall rep farming, whether you want to progress from friendly to Exalted or achieve any other rep standing upgrades, including the highly sought-after Paragon rewards, such as the Legionfall Tabard or Legion Invasion Simulator. No matter what your goal is, we can help you get there.
By purchasing the Armies of Legionfall reputation boost, you can skip the tedious and time-consuming reputation grinding process and quickly and securely reach your desired level of reputation. Our team of professional WoW boosters will take care of the entire leveling process from start to finish, making it an effortless and enjoyable experience for you. Trust us to deliver quality service and outstanding results.
The Armies of Legionfall Rep Leveling:
How does it work?
Our top-notch service guarantees a fast and effortless process. Once you purchase The Armies of Legionfall rep leveling service, one of our professional managers will promptly contact you via Skype, Discord, or Email. Our average response time is between 5-10 minutes, but we are available 24/7 via Gamingcy Discord in case you have any questions or concerns.
During this initial contact, you will have the opportunity to discuss all the critical details regarding The Armies of Legionfall reputation power leveling on your account. You can schedule a convenient starting time and set up a playing schedule that works for you. We understand that every player's requirements are unique, and we are always willing to accommodate your specific needs and preferences.
Throughout the boosting process, our experienced manager will keep you updated and informed via your preferred messenger application. You can sit back, relax, and let our team handle all the tedious and repetitive tasks of grinding WoW reputations for hours on end. By purchasing our boosting service, you can enjoy a hassle-free, stress-free, and rewarding leveling experience that will enable you to reach your desired goals in no time.
WoW Armies of Legionfall Rep Farming:
What no one tells you
If you're eager to enjoy the incredible rewards of the Armies of Legionfall faction, your first question is likely, "What's the easiest and fastest way to become exalted?" The answer is simple: buy our rep boost service at Gamingcy.com!
At Gamingcy, we believe that online games should provide fun and positive emotions that leave you feeling happier after each gaming session. World of Warcraft's high-level activities like raids, dungeons, and arenas can give you that feeling. However, the grind of reputation quests feels more like tedious office work than an exciting form of entertainment. Wasting hours of valuable gaming time just to build rep with Armies of Legionfall isn't the most rational choice for a grown-up.
Instead, entrust the boring rep grind to an expert gamer who knows the Broken Shore location, questlines, mob spawn spots, and the fastest way to reach exalted status with this faction. Our boosters can handle the entire leveling process at a suitable time for you without disrupting your usual gaming time. With our super-fast 24/7 online support, you'll receive a premium 5-star boosting service instead of wasting hours googling guides and farming quests and mobs. It usually takes our boosters 5-7 days to reach exalted standing, and various reputation buffs may speed up the progress. Regardless, our booster's primary goal is always to provide the carry in the fastest possible way.
In our opinion, buying our Armies of Legionfall rep boost service is the best way to get the rep fast and easy, skipping the dull farming and heading straight for the incredible rewards, including professions goodies, pets, tabards, and mounts.
World of Warcraft's reputation ranks follow a logical progression from Hated to Hostile, Unfriendly, Neutral, Friendly, Honored, Revered, and Exalted. You can buy any reputation level upgrade on our site, including Paragon. For every 10,000 rep points earned above Exalted, you'll receive a supplies quest and the Legionfall Chest, which may contain the Orphaned Felbat.
In summary, entrust the boring rep grind to our expert gamers and enjoy the incredible rewards of the Armies of Legionfall faction by purchasing our rep boost service. With our fast, efficient, and reliable service, you'll be exalted in no time.
Below you can find the list of the most significant rewards, which you can purchase from the Warmage Kath'leen, quartermaster of this faction:
ETA:
Average starting time: 1-5 hours
Average Execution time: Armies of Legionfall exalted boosting takes 5-7 days
Rewards you will get:
Armies of Legionfall achievement;
The Exalted rank with faction and access to all factional rewards.
Options available:
Reputation: Choose your current rank with the Armies of Legionfall. You can choose the «Only Paragon» option if you already have the Exalted standing with this faction and only want to get paragon chests boost.
Paragon: Choose the desired amount of paragon chests. We will farm 10,000 Reputation points after the Exalted standing and get the Legionfall Chest for you.
Requirements + Important notes:
70 level

character in EU or US server

Account sharing

(an experienced player will securely log into your account and do all the work for you)