Amirdrassil Heroic Boost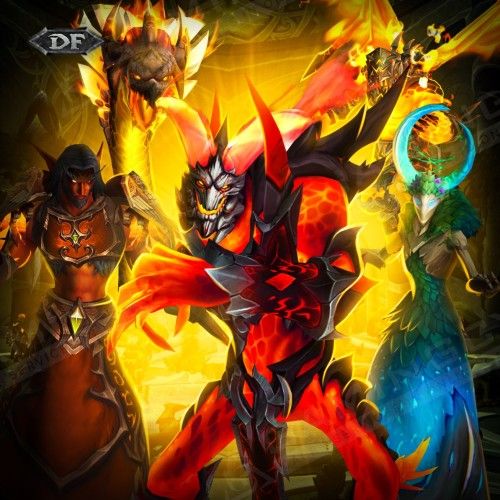 Real time raid timers
Hurry to join the next starting raid run. Check timers!

Raids shedule
Big list of available raid slots. Pick the most convenient raid time online!

Find me a hot slot!
Didn't find a sultable raid slot in the schedule? Not a problem. Click this button, and we shall find you a convenient raid time in 3 minutes!

Best-seller
Your easy & right choice: these services are on a high demand for a reason!

Secure Payments
You can pay securely with PayPal or your Credit Card via Stripe. All payments are covered with the customer protection system and money back guarantee!
On this webpage, you have the opportunity to buy Amirdrassil Heroic Boost: it's the third raid of the World of Warcraft Dragonflight expansion.
With our carries, you can kill 9/9 ATDH HC bosses and push your WoW DF gaming experience to the top! Opting for the Heroic Amirdrassil, the Dream's Hope boost is an excellent way to acquire high ilvl items and equip your character with impressive gear at the start of Dragonflight Season 3.
But the benefits don't stop there. With our services, you're not just getting Heroic ATDH run completion; you're also unlocking a set of prestigious achievements that come with successfully downing each of these daunting bosses:
To sweeten the deal, the loot you stand to gain is no joke. Powerful gear with item levels that range from 467 to 476 could be yours, significantly boosting your gameplay advantages.
We understand that different players have varying preferences when it comes to loot, which is why our Heroic Amirdrassil boosts are carefully segmented into three tailor-made options to suit your needs:
Full Priority,
Armor & Token Priority (so-called ATP runs),
and Group Loot.
To get the full scoop on what each of these loot options entails, please refer to the "Rewards and Options" description section situated further down on this page.
Heroic Amirdrassil Carries:
How Does It Work?
Once you've completed the purchase for your Amirdrassil Heroic Carry, our 24/7 support agent will quickly get in touch with you via Discord, Skype, or Email. The coordinator's primary function is to make the entire journey as seamless as possible for you, from the initial steps to the final moment when you clear the AtDH raid in HC mode with one of our expert PvE guilds.
The process is straightforward:
Configure your carry

, select your desired raid time from the online schedule, and buy the Amirdrassil, the Dream's Hope heroic run.

Start the chat with our support in Discord

. On average, it takes us 3-5 minutes to add you to friends after the purchase. Alternatively, you can send a friendship request to Gamingcy username.

Joining the Raid

: When the time you selected rolls around, our highly skilled raiders will either directly invite you to the raid group or provide you with detailed steps to join the raid using the LFG tool. This ensures maximum safety and ease of getting an invite into our team.

Enjoy your run

: Take part in a seamless Amirdrassil heroic boost and effortlessly defeat the most challenging PvE bosses with our PRO gamers. If you have any questions during the run, don't hesitate to ask your manager via Skype or Discord. We're always here to help you!

Mission Accomplished

: Upon completing your WoW AtDH Heroic Carry, we kindly ask you to share your thoughts about our service by leaving a review on Trustpilot.
This multi-step process provides seamless, secure, and enjoyable PvE gameplay, amplifying your World of Warcraft Dragonflight Season 3 raiding experience to new levels.
Amirdrassil HC Boost:
Everything You Need to Know
Dragonflight Season 3 has officially landed, unveiling a new and exciting raid adventure in the World of Warcraft Dragonflight—Amirdrassil, the Dream's Hope Heroic Boosting. This intricately designed PvE instance features a total of nine bosses, each endowed with their own set of distinct abilities and intricate mechanics. As you venture through this challenging landscape, you'll have the chance to lay your hands on an array of Heroic-level weapons, trinkets, armor sets, and unique class-specific gear pieces.
Your entrance into the world of WoW Amirdrassil Heroic Boosts opens the doors to an extensive arsenal of powerful loot. The rewards you can acquire are categorized by item level and are awarded as follows:
467 ilvl gear:

Obtainable from the first two bosses - Gnarlroot and Igira the Cruel.

470 ilvl drops:

can be received from the 3 two bosses - Volcoross and the enigmatic Council of Dreams.

473 ilvl loot:

Acquirban be the middle-tier adversaries - Larodar, Nymue, and Smolderon.

476 ilvl rewards:

Claimable from the final booses - Tindral Sageswift and Fyrakk the Blazing.
But that's not all; you also have the enticing possibility of stumbling upon incredibly scarce and valuable items boasting even higher item levels. These extraordinarily rare pieces can be 6-7 ilvls better than the standard gear and drop randomly from any of the bosses above.
This comprehensive guide aims to equip you with all the information you'll need to fully benefit from the WoW Amirdrassil Heroic Carry services, making your journey through the Dragonflight Season 3 raid a rewarding experience.
ETA:
Average starting time:
check the schedule
If the schedule is empty or the system can't find any slots matching your preferences - the Get me a hot raid slot button will appear. Click this button, and our manager will find you a convenient raid slot in 3 minutes!
Average Execution time: 1-3 hours
Rewards & Options description:
Full Priority

Armor & Token Priority

Group Loot run

9/9 Bosses killed

in Heroic mode

9/9 Bosses killed

in Heroic mode

9/9 Bosses killed

in Heroic mode

Full Armor Reservation

Armor Type and Tier Token Reservation

Chance at loot via rolling

Loot guarantee:
all suitable items per run
(467-476 ilvl) *

Loot guarantee:


10 player:

4+ 467-476 ilvl* per run

15 player:

5+ 467-476 ilvl* per run

20 player:

7+ 467-476 ilvl* per run

Random amount


of new 467-476 ilvl gear
Weekly great vault reward for killing
9x

Heroic raid

bosses

:

1x 467-476 ilvl item with an opportunity to choose from 3 items

Weekly great vault reward for killing
9x Heroic raid bosses:

1x 467-476 ilvl item with an opportunity to choose from 3 items

Weekly great vault reward for killing
9x Heroic raid bosses:

1x 467-476 ilvl item with an opportunity to choose from 3 items
Loot trading terms*:

* You will be the only customer of your armory type in the raid if you purchase the Armor priority loot run. It means that you will not have to compete for the gear. However, weapons, trinkets, and accessories will be rolled (except full priority).
We guarantee a certain number of items in different slots (the exact amount depends on the option you're buying). You can always get more items than guaranteed if you're fortunate. Drop is RNG-based. Bonus rolls and drops that do not upgrade your current gear count toward the guarantee.

** If you don't get the guaranteed number of items during the raid boost, we shall provide you another carry next week to get the guaranteed amount of items.
Requirements + Important notes:
70 level character in EU or US server
You should understand and accept Loot trading terms*
You should

hit each boss at least once

to get the loot from that boss.

Group loot (EU & US):

Selfplay.

Armor & Token / Full Priority (EU & US):

Selfplay / Account Sharing.
Bosses will be killed in the following order:

Gnarlroot
Igira the Cruel
Volcoross
Council of Dreams
Larodar, Keeper of the Flame
Nymue, Weaver of the Cycle
Smolderon
Tindral Sageswift, Seer of the Flame
Fyrakk the Blazing