The Alliance Vanguard Rep Boost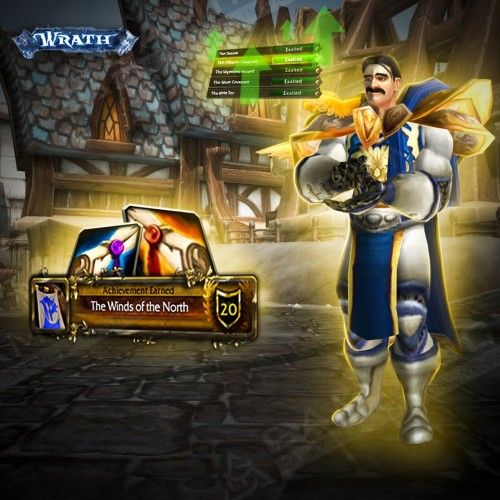 Boosting Schedule
Set the time when the booster may play your account with your manager. We can provide your whole carry while you're AFK without disturbing your usual gaming time!

24/7 support
Get a helpful human reply in ±15 seconds!

Hide My Boost
We've developed this unique software to protect you from bans and suspensions. It allows account sharing without flagging an account.

Secure Payments
You can pay securely with PayPal or your Credit Card via Stripe. All payments are covered with the customer protection system and money back guarantee!

Secure Web-site
SSL and HTTPS protocols are used for your 100% privacy & data safety
We present our Alliance Vanguard rep boost service, available for EU and US realms within Wrath of the Lich King Classic and Dragonflight expansions. Upon purchasing the Alliance Vanguard reputation leveling, you'll gain access to exclusive faction rewards and The Winds of the North achievement.
Who is Alliance Vanguard?
The Alliance Vanguard, a prominent faction in World of Warcraft, serves as the united front for the Alliance forces in Northrend, battling the Scourge and other threats. Comprising four sub-factions (The Silver Covenant, Valiance Expedition, Explorers' League, and The Frostborn), the Alliance Vanguard offers unique rewards for players, such as powerful recipes, epic gear, and weapons to boost character stats.
How Does the Alliance Vanguard Rep Leveling Work?
By choosing our skilled boosting specialists, you can be confident they will safely play your account, working through numerous factional questlines and daily quests to achieve the coveted exalted reputation level.
We cater to all kinds of Alliance Vanguard reputation building: whether you need to progress from Friendly to Exalted or achieve any rank upgrade. Our knowledgeable players utilize the most effective game mechanics, are well-versed in all Northrend quests, zones, and locations, and always aim to complete your order as swiftly as possible. We prioritize customer satisfaction; the faster we deliver results, the more our service is valued.
WoW Alliance Vanguard Rep Farming:
The Process Explained
The procedure is simple and efficient. After buying the Alliance Vanguard reputation leveling service, our manager will promptly contact you via Skype/Discord/Email, typically within 5-10 minutes. You can also reach us through Gamingcy Discord, where our friendly support staff is available 24/7.
You'll discuss the specifics of the Alliance Vanguard reputation power leveling process for your character, including the start time, preferred playing schedule, and other details.
Our manager will inform you throughout the enhancement process and notify you via your preferred messenger once the task is completed. Say goodbye to grinding WoW reputations for hours, purchase the leveling, and let Gamingcy handle the hard work!
WoW Alliance Vanguard Rep Boost:
What no one tells you
What advantages come with opting for this service?
This service is compatible with WotLK Classic and Retail (Dragonflight) World of Warcraft servers. Farming reputation with the Alliance Vanguard is highly advantageous in the Wrath of the Lich King setting. It unlocks significant recipes, epic gear, and weapons, improving your character's stats, item level, and overall progression. In Dragonflight, this faction primarily offers a tabard, cosmetics, and achievements. Regardless, reputation leveling can be a lengthy and tedious process, making it wise to rely on our seasoned enhancement specialists.
Opting for the Alliance Vanguard rep leveling is the perfect way to bypass the monotonous reputation grind and access rewards quickly and securely. Our expert World of Warcraft boosting service ensures a hassle-free and enjoyable experience, handling the entire process for you.
Why is it smart to let our professional do the whole job for you?
At Gamingcy, our core belief is that online gaming should be a source of joy and positivity, leaving you happier after every gaming session. Engaging in thrilling high-level activities like raids, dungeons, and arenas in WoW can provide the excitement and enjoyment you crave. On the other hand, grinding reputation quests feels more like a monotonous daily job rather than enjoyable gameplay. Spending precious gaming time on building reputation with Alliance Vanguard may not be the most efficient use of your time, especially as an adult.
How much time is typically required for this process?
Normally, achieving exalted status typically requires 2-7 hours, although certain reputation buffs can speed up the progression. Nevertheless, our main goal is to provide the fastest possible carry service.
WoW Reputation Ranks follow this progression:
Hated —> Hostile —> Unfriendly —> Neutral —> Friendly —> Honored —> Revered —> Exalted.
The Alliance Vanguard Quartermaster and location
Logistics Officer Silverstone <Alliance Vanguard Quartermaster> is the factional quartermaster and the primary vendor: visit her to buy exclusive items that get unlocked at certain reputation levels. You can find her at 57.6 66.2 coordinates in Borean Tundra location.
Below you can find the list of the most significant rewards, which you can purchase from Logistics Officer Silverstone:
ETA:
Average starting time: 1-5 hours
Average Execution time: Alliance Vanguard exalted boosting takes 2-7 hours
Rewards you will get:
The Winds of the North achievement;
Access to unique factional gear (for transmog purposes in Retail and for the character gearing in WotLK Classic).
Options available:
WoW Expansion: choose the game that you're playing and need your boost on (Retail or WotLK Classic).
Reputation: Choose your current rank with Alliance Vanguard.
Requirements + Important notes:
70 level

alliance character in Dragonflight EU or US server

80 level

alliance character in WotLK Classic EU or US server

Account sharing

(an experienced player will securely log into your account and do all the work for you)