Mawsworn Charger Mount boost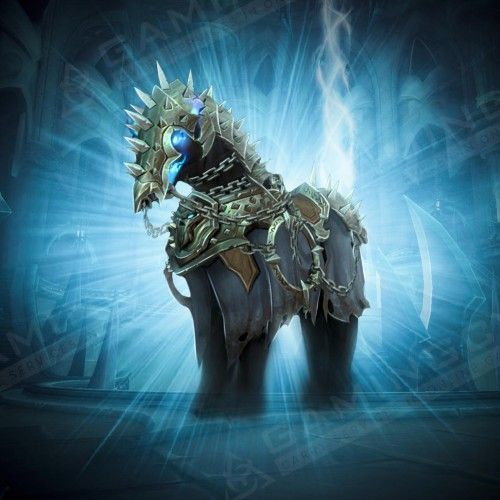 Boosting Schedule
Set the time when the booster may play your account with your manager. We can provide your whole carry while you're AFK without disturbing your usual gaming time!

Hide My Boost
We've developed this unique software to protect you from bans and suspensions. It allows account sharing without flagging an account.

Secure Payments
You can pay securely with PayPal or your Credit Card via Stripe. All payments are covered with the customer protection system and money back guarantee!

Secure Web-site
SSL and HTTPS protocols are used for your 100% privacy & data safety

Enlarge your collections!
An extensive list of unique & rare mounts makes your gameplay brighter and your whole account more precious!
By purchasing Gamingcy's Mawsworn Charger boost, you can bypass the tedious and time-consuming process of unlocking the Flawless Master (Layer 12) meta-achievement required to obtain this mount in World of Warcraft Dragonflight.
The Mawsworn Charger's Reins is a mount obtainable from Torghast in Patch 9.1 of World of Warcraft Shadowlands. To acquire this reward, players must earn the Flawless Master achievement by completing a flawless run on Layer 12 in each wing of Torghast, Tower of the Damned added in the Chains of Domination patch. This achievement requires skill and determination as a flawless run entails completing the highest rating in each wing of Torghast. The Mawsworn Charger's Reins serves as a prestigious reward for those who overcome the challenges of Torghast and demonstrate their mastery of its treacherous halls.
Mawsworn Charger farming:
How does it work?
Expert booster will securely play your account, running on layer 12 in each wing of Torghast until the Mawsworn Charger is unlocked. All rewards gained during the boost are kept by the you. This farming service ensures guaranteed results for a paid fee, eliminating the need for RNG (random number generator) drama.
To start the process, customers must
Add the service to their cart and pay with Visa, Mastercard, or Crypto.
They then contact a manager via Discord, Skype, or Email to arrange a convenient boost time with a professional gamer.
After completing the boost, the manager will promptly inform the customer.
How to get Torghast Flawless Master Mount fast?
It's easy - simply purchase the Mawsworn Charger mount from our team of expert WoW players!
To obtain the Flawless Master mount in World of Warcraft, you'll need to complete the Torghast meta-achievement called Flawless Master (Layer 12). This achievement requires completing all six areas of Torghast, consisting of 12 layers in total, without any failures or deaths. Each specific area, such as Upper Reaches, The Soulforges, Skoldus Hall, Mort'regar, Coldheart Interstitia, and Fracture Chambers, must be completed flawlessly. The scoring system plays a significant role in determining your progression, as you need to achieve a minimum score to unlock higher layers. Merely defeating the end boss is no longer sufficient; your performance throughout the entire run is assessed. This ensures that players cannot simply rush to the last boss but must excel throughout the entire Torghast experience.
Our boosting service is the ideal choice for avid collectors who want to save valuable time and obtain the most coveted mounts in the game. With Gamingcy, you'll find the best prices on the market for Mawsworn Charger mount boost, so why wait? Expand your WoW collections today!
We NEVER use any third-party software or exploits, and we do all the work manually.
ETA:
Average starting time: 1-2 hours
Average Execution time: 1-2 days
Rewards you will get:
Options available:
Selfplay:

you will play your character yourself with a group of our professional player(s).

Account sharing:

an experienced player will securely log into your account and do all the
work for you.
Requirements + Important notes:
70 level

character in EU or US servers

Torghast Tower

unlocked