Khan Title Boost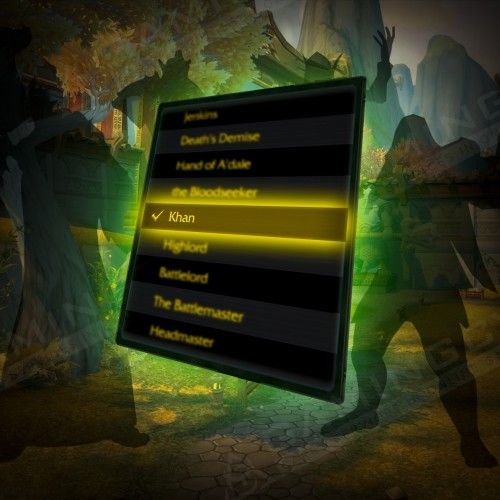 Boosting Schedule
Set the time when the booster may play your account with your manager. We can provide your whole carry while you're AFK without disturbing your usual gaming time!

Hide My Boost
We've developed this unique software to protect you from bans and suspensions. It allows account sharing without flagging an account.

Secure Payments
You can pay securely with PayPal or your Credit Card via Stripe. All payments are covered with the customer protection system and money back guarantee!

Secure Web-site
SSL and HTTPS protocols are used for your 100% privacy & data safety

Enlarge your collections!
An extensive list of unique & rare titles makes your gameplay brighter and your whole account more precious!
This boosting service enables you to buy the coveted Khan title with real money, awarded upon completing the Khan meta-achievement. The Khan title in World of Warcraft signifies a player's extraordinary expertise in the game's PvP battlegrounds.
To secure this title, you must accomplish specific milestones in five separate battlegrounds:
Battle for Gilneas;
Twin Peaks;
Temple of Kotmogu;
Isle of Conquest;
Silvershard Mines.
Earning the "Master" rank in each battleground demands unwavering dedication, as you must win numerous matches and fulfill battleground-specific objectives. As you progress through the required achievements, your proficiency across these battlegrounds will be acknowledged, granting you the distinguished title «Khan".
Unlocking the Khan title necessitates a thorough understanding of each battleground's mechanics, the formation of a skilled team, and the ability to adapt to diverse situations during gameplay. The title is displayed after your character's nickname, highlighting your exceptional skills in World of Warcraft's PvP battles: <Name> Khan.
By choosing Gamingcy's boosting service, you will receive a fast Khan boost from our experienced WoW players. Our professional gamers will securely farm various battlegrounds on your character, completing all necessary achievements for the Khan meta-achievement. All WoW gold and RNG-based battleground rewards obtained during the carry are yours to keep. Experience hassle-free Khan boosting with Gamingcy and acquire your title effortlessly!
How to get the Khan title?
It's simple! Purchase the WoW Title Khan at Gamingcy.com! Our website offers top-notch services provided by elite World of Warcraft guilds, ensuring quick and secure completion. Bypass the exhausting farming with pugs and conserve your time, energy, and resources. Opt for Gamingcy's Khan title boost and enjoy an affordable, stress-free carry.
Gamingcy's professional boosting services are designed to provide a seamless and enjoyable experience. Explore an intelligent method of acquiring sought-after rewards from World of Warcraft BGs with Gamingcy's expert guidance. It's time to expand your collection of WoW PvP milestones and showcase your prowess in the battlegrounds!
ETA:
Average starting time: 1-2 hours
Average Execution time: 3-4 months
Rewards you will get:
Unique elite PvP title - «

Khan

»

.

Over 600+ Achievement points;
A lot of honor levels, BG wins and conquest points.
Requirements + Important notes:
70 level

character in EU or US server

Account sharing

(an experienced player will securely log into your account and do all the work for you)