The Dragonmaw Clan Reputation Boost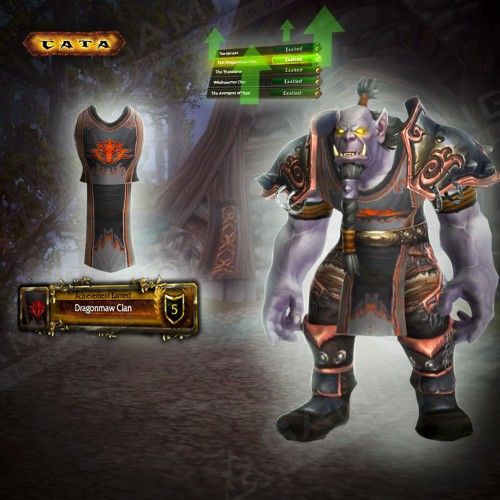 Boosting Schedule
Set the time when the booster may play your account with your manager. We can provide your whole carry while you're AFK without disturbing your usual gaming time!

Hide My Boost
We've developed this unique software to protect you from bans and suspensions. It allows account sharing without flagging an account.

Secure Payments
You can pay securely with PayPal or your Credit Card via Stripe. All payments are covered with the customer protection system and money back guarantee!

Secure Web-site
SSL and HTTPS protocols are used for your 100% privacy & data safety
On this page you can buy a Dragonmaw Clan Rep Boost in World of Warcraft Dragonflight. This faction is neutral and a part of the WoW Cataclysm expansion. By purchasing the Dragonmaw Clan rep farming service, you can gain exclusive factional rewards and earn the Dragonmaw Clan achievement.
Who is the Dragonmaw Clan?
The Dragonmaw Clan, led by Warchief Zuluhed the Whacked, is a WoW faction known for their capture of the Demon Soul during the Second War. Despite being defeated by the Alliance of Lorderon, the clan remains a force of orcs, goblins, and dragonkin in areas like the Twilight Highlands. Their aim is to use dragons to increase military might, and you can complete quests such as dragon taming and breeding to earn reputation and rewards like armor, pets, and mounts.
How Does the Dragonmaw Clan Rep Leveling Work?
Our team of professional boosters will securely access your account and diligently complete various factional quest lines and daily tasks until the Exalted Rep level is achieved.
Why purchase this reputation farming service?
With our flexible options, you can upgrade your current standing with the Dragonmaw Clan faction to the highest level without breaking the bank. Our experience shows that this is the quickest method to unlock amazing rewards while avoiding the tedious grinding process. Gamingcy will handle the entire leveling process, leaving you stress-free and satisfied.
The Dragonmaw Clan Rep Power leveling:
How does it work?
The Dragonmaw Clan Reputation Power Leveling service is designed to be fast, simple, and affordable. Once you make a purchase, our team will take care of everything. We will contact you in Discord/Skype/ Email within 5-10 minutes after the payment or you can reach our 24/7 support team in Discord using our tag Gamingcy. In your preferred communication platform, you can discuss your preferences such as playing schedule, starting time, ETA, and other specific details. We'll keep you updated throughout the process and let you know as soon as the job is completed.
WoW Dragonmaw Clan Rep Farming:
What no one tells you
At Gamingcy, we understand the importance of making online gaming a fun and immersive experience that enhances your overall gaming enjoyment. However, sometimes completing quests can feel more like mundane office tasks rather than exciting entertainment. As an experienced player, it may not always be the best use of your valuable gaming time to focus on building your reputation with the Dragonmaw Clan.
Typically, it takes 2-7 hours to reach the Exalted standing, and our booster will use various reputation buffs to speed up the progress. Our priority is always to provide you with the fastest possible service.
WoW Reputation Ranks occur in this order:
Hated —> Hostile —> Unfriendly —> Neutral —> Friendly —> Honored —> Revered —> Exalted.
The Dragonmaw Clan Quartermaster and location
Grot Deathblow, the quartermaster for the Dragonmaw Clan faction, serves as the primary vendor for exclusive items unlocked at specific reputation levels. You can locate him at coordinates 53.8, 42.0 in the Twilight Highlands.
Here is a list of the most notable rewards available for purchase from Grot Deathblow:
ETA:
Average starting time: 1-5 hours
Average Execution time: Dragonmaw Clan exalted boosting takes 2-7 hours
Rewards you will get:
Dragonmaw Clan achievement;
The Exalted rank with faction and access to all factional rewards.
Options available:
Reputation: Choose your current rank with Dragonmaw Clan.
Requirements + Important notes:
70 level

horde character in EU or US server

Account sharing

(an experienced player will securely log into your account and do all the work for you)