The Avengers of Hyjal Reputation Boost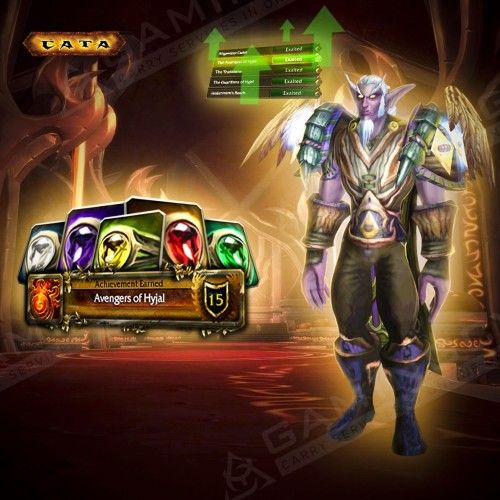 Boosting Schedule
Set the time when the booster may play your account with your manager. We can provide your whole carry while you're AFK without disturbing your usual gaming time!

Hide My Boost
We've developed this unique software to protect you from bans and suspensions. It allows account sharing without flagging an account.

Secure Payments
You can pay securely with PayPal or your Credit Card via Stripe. All payments are covered with the customer protection system and money back guarantee!

Secure Web-site
SSL and HTTPS protocols are used for your 100% privacy & data safety
Here you can buy Avengers of Hyjal reputation boost in World of Warcraft Dragonflight. This particular faction is neutral and a part of the WoW Cataclysm expansion. By purchasing our Avengers of Hyjal rep farming service, you will get access to exclusive rewards and earn the Avengers of Hyjal achievement.
Who are the Avengers of Hyjal?
The Avengers of Hyjal is a faction of heroes protecting the Nordrassil World Tree from the Firelord. The group is based in Mount Hyjal and accomplishes this through various quests such as fighting off attacks and gathering resources. By gaining reputation with them you can unlock rewards like mounts and gear. Introduced in Cataclysm, the faction remains popular for its story and challenging content.
How Does the Avengers of Hyjal Rep Leveling Work?
Our professional boosters will securely log into your account and diligently complete various faction quests and dailies until Exalted Rep lvl is reached. At our site, we offer customizable options to upgrade your current rep standing with the Avengers of Hyjal faction to the maximum level without breaking the bank.
Why you should consider buying this service?
Our experience has shown that purchasing our Avengers of Hyjal reputation boost service is the quickest way to unlock exceptional rewards without the tedious rep grinding. Our team at Gamingcy will make the entire leveling process seamless and enjoyable by handling the entire job from start to finish while keeping you informed every step of the way.
The Avengers of Hyjal Rep Power leveling:
How does it work?
Our team has designed a streamlined, stress-free process that ensures you'll achieve your desired reputation ranking in a timely and reliable manner.
Upon purchasing, our operator will contact you via Discord/Skype/Email within 5-10 minutes to get started. Alternatively, you can initiate contact with us through Discord (Gamingcy) at any time, 24/7. In this messaging exchange, you'll outline your preferred playing schedule, start time, ETA, and any other relevant details.
Throughout the process, our support manager will provide consistent updates to ensure you're always in the loop. Once the job is done, you'll be promptly informed.
WoW Avengers of Hyjal Rep Farming:
What no one tells you
Why is it smart to let our professional do the whole job for you?
At Gamingcy, we understand that online gaming should offer an enjoyable and immersive experience, enhancing your overall gaming pleasure. Nevertheless, the grind of completing quests can often resemble mundane office tasks rather than thrilling entertainment. As a seasoned player, allocating your valuable gaming hours to earn reputation with the Avengers of Hyjal may not always be the most practical decision.
How much time will I save?
With our expert PRO gamer on your side, you can expect to reach Exalted standing in just 2-7 days. This timeline may vary depending on various reputation buffs that may arise throughout the process. Nonetheless, we guarantee that our booster will prioritize speed to get you where you want to go as efficiently as possible.
In World of Warcraft, Reputation Ranks follow the structure:
Hated —> Hostile —> Unfriendly —> Neutral —> Friendly —> Honored —> Revered —> Exalted.
The Avengers of Hyjal Quartermaster and location
Naresir Stormfury, the quartermaster for the Avengers of Hyjal faction, is your go-to vendor for unique items unlocked at specific reputation levels. You can locate him at coordinates 24.6, 90.6 within the Firelands area.
Here's a list of the key rewards available for purchase from Naresir Stormfury:
ETA:
Average starting time: 1-5 hours
Average Execution time: Avengers of Hyjal exalted boosting takes 2-7 days
Rewards you will get:
Avengers of Hyjal achievement;
The «Avenger of Hyjal» title;
The Exalted rank with faction and access to all factional rewards.
Options available:
Reputation: Choose your current rank with Avengers of Hyjal.
Requirements + Important notes:
70 level

character in EU or US server

Account sharing

(an experienced player will securely log into your account and do all the work for you)