The Death's Advance Reputation Boost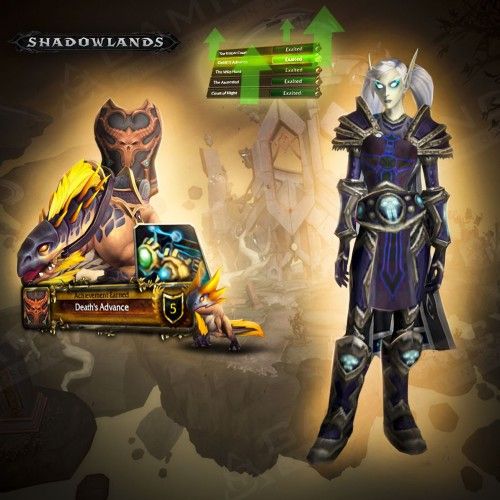 Boosting Schedule
Set the time when the booster may play your account with your manager. We can provide your whole carry while you're AFK without disturbing your usual gaming time!

24/7 support
Get a helpful human reply in ±15 seconds!

Hide My Boost
We've developed this unique software to protect you from bans and suspensions. It allows account sharing without flagging an account.

Secure Payments
You can pay securely with PayPal or your Credit Card via Stripe. All payments are covered with the customer protection system and money back guarantee!

Secure Web-site
SSL and HTTPS protocols are used for your 100% privacy & data safety
This service provides you with the opportunity to buy the Death's Advance reputation boost, a neutral faction in WoW Shadowlands. Our team of experienced boosters will securely access your account and tirelessly grind through various factional quest lines and daily quests until they achieve the coveted Exalted Rep level. By purchasing the Death's Advance reputation farming service, you will gain access to unique factional rewards, including the Death's Advance achievement, if you opt for the Exalted rank boost.
Our services are customizable and we offer rep farming for any level of standing, from friendly to Exalted, as well as other rep standing upgrades, such as Paragon, which will unlock items like the Death's Advance Tabard or Amber Shardhide mount. Purchasing our Death's Advance reputation boost is the only way to skip the monotonous rep grinding and access rewards quickly and securely. Our professional World of Warcraft boosting service will make the entire leveling process effortless and enjoyable for you, as we take care of everything from start to finish.
The Death's Advance Rep Power leveling:
How does it work?
We guarantee a prompt and seamless process from start to finish. Once you purchase our unparalleled Death's Advance rep leveling service, one of our skilled managers will immediately contact you via Skype, Discord, or email. Rest assured, it typically only takes 5-10 minutes for us to reach out to you. For your convenience, we also offer 24/7 assistance via our Gamingcy Discord channel.
During your initial consultation with our manager, you'll be able to discuss and finalize all the essential details regarding the Death's Advance reputation powerleveling on your account. This includes determining the optimal starting time, convenient playing schedule, and other nuances to ensure that our team delivers the service tailored to your exact specifications.
Throughout the entire boosting process, our manager will keep you informed of the progress, providing regular updates via your preferred messenger. Once the job is complete, our manager will immediately notify you. With our exceptional service, you'll never have to spend endless hours grinding WoW reputations again. Simply purchase our boost, and let the team at Gamingcy handle all the tedious work for you.
WoW Death's Advance Rep Farming:
What no one tells you
As avid gamers, we can assert with unwavering confidence that the swiftest path to attaining Exalted status with the Death's Advance faction is through the acquisition of our express reputation boost from our website. This invaluable service grants you the ability to circumvent the countless hours of laborious quest farming, thus ensuring a more expedient ascent.
Why should you seriously contemplate procuring this service?
Our fundamental belief is that online gaming should furnish enjoyable, uplifting experiences, leaving you happier after each gaming session. High-level activities within the World of Warcraft Dragonflight universe, such as raids, dungeons, and arenas, have the potential to deliver precisely that. However, the wearisome grind associated with reputation quests more closely resembles mundane office drudgery than pleasurable entertainment. This approach hardly seems to make optimal use of your precious, limited gaming time as an adult.
What sets Gamingcy apart?
Choosing to delegate the monotonous task of reputation grinding to an expert gamer well-versed in the intricacies of Korthia's geography, questlines, mob spawn locations, and the most efficient routes to achieving exalted status is, without a doubt, a more prudent course of action. Equally essential is the fact that our experts will manage the entire leveling process seamlessly, accommodating your schedule without disrupting your regular gaming routine (you have the freedom to specify when we may operate your character). Our top-notch 24/7 online support ensures you receive a premium 5-star boosting service, sparing you the arduous quest for guides and the tedious grind of quests and mobs.
What's the estimated timeframe?
Typically, the journey to Exalted status spans a period of 2 to 7 days, with the potential for various reputation buffs to expedite the process. Regardless of the specific circumstances, our boosters remain committed to delivering a swift and efficient carry.
The hierarchy of WoW Reputation Ranks follows this structure:
Hated —> Hostile —> Unfriendly —> Neutral —> Friendly —> Honored —> Revered —> Exalted. Achieving an excess of 10,000 reputation points beyond Exalted status will trigger a supplies quest and bestow upon you a Death's Advance Supplies containing, among other things, a Fierce Razorwing.
The Death's Advance Quartermaster and their location
Duchess Mynx, the esteemed Death's Advance Quartermaster, serves as the faction's primary vendor. To acquire exclusive items unlockable at specific reputation levels, pay a visit to this purveyor of prestige located at coordinates 63.4 23.4 in the Korthia region.
Below, you'll find a catalog of the most noteworthy rewards available for purchase from Duchess Mynx:
ETA:
Average starting time: 1-5 hours
Average Execution time: Death's Advance exalted boosting takes 2-7 days
Rewards you will get:
Death's Advance achievement;
The Exalted rank with faction and access to all factional rewards.
Options available:
Reputation: Choose your current rank with the Death's Advance. You can choose the «Only Paragon» option if you already have the Exalted standing with this faction and only want to get paragon chests boost.
Paragon: Choose the desired amount of paragon chests. We will farm 10,000 Reputation points after the Exalted standing and get the Death's Advance Supplies for you.
Requirements + Important notes:
70 level

character in EU or US servers;

Account sharing

(an experienced player will securely log into your account and do all the work for you).