Diablo 4 Glyphs Boost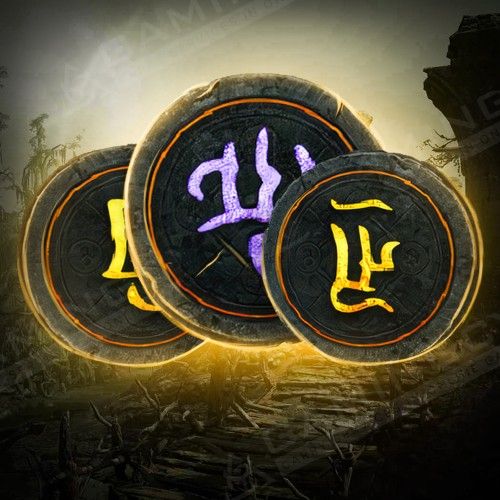 Boosting Schedule
Set the time when the booster may play your account with your manager. We can provide your whole carry while you're AFK without disturbing your usual gaming time!

24/7 support
Get a helpful human reply in ±15 seconds!

Hide My Boost
We've developed this unique software to protect you from bans and suspensions. It allows account sharing without flagging an account.

Secure Payments
You can pay securely with PayPal or your Credit Card via Stripe. All payments are covered with the customer protection system and money back guarantee!

Secure Web-site
SSL and HTTPS protocols are used for your 100% privacy & data safety
Discover the convenience of buying Glyphs boost in Diablo 4. At our site, we provide services for the PlayStation, Xbox, and PC platforms.
This boosting implies account sharing: an experienced gamer who knows how to get and level up Glyphs in Diablo effectively will play your character and get the desired amount of them on your behalf. All rng-based rewards that may be received during farming are yours to keep. Your account's safety during the carry is always our #1 priority. That's why we make sure to use premium VPN connections and our exclusive Hide My Boost system to make the execution of your order 100% secure. As soon as the service is completed, our 24/7 support manager will inform you about it via Discord (our username is Gamingcy, you can add us as friends at any moment).
Glyphs offer a way to customize your D4 character and his build deeply. They become available at 50 level, provide significant benefits and allow for high-level strategic thinking. Understanding and making the most of their mechanics in your gameplay can be a game-changer. With the correct allocation, these Glyphs can help you confidently conquer the endgame challenges.
Purchase the Glyphs farm in Diablo 4 at Gamingcy and enjoy a fast turn-key solution delivered by professional boosters who excel in the game's most effective grinding mechanics.
Diablo 4 Glyphs explained: Drops, farming, use, and leveling
Glyphs start to appear after you wrap up the first Capstone Dungeon and move into Tier 3, becoming available at level 50. The initial collection of them is received at this lvl, and Rare ones can be sourced through activities in World Tier 3 and beyond.
To use Glyphs, you must unlock a Socket in the Paragon Board and then insert the chosen Glyph. Each class has a unique Paragon Board, and as you level up and select more nodes, more boards are unlocked. Different types of nodes exist, such as Normal, Magic, Rare, Legendary, and Sockets.
Primarily, they are collected by finishing Nightmare Dungeons (in most cases, our booster will perform the D4 glyphs farming service there), where they are dropped by elites, chests, and the dungeon's final boss. Specific quests and the Tree of Whispers bounty system also aid in acquiring Glyphs. Higher-tier dungeons offer a more substantial amount of Glyph experience.
Diablo 4 introduces two categories of Glyphs - Magic, and Rare.
Magic Glyphs bestow a fundamental bonus and an extra perk activated when Paragon Nodes within their radius get allocated.
It means the perks Magic Glyphs provide are twofold: a primary, standard bonus and a secondary one, conditional, only becoming active once specific Paragon Nodes within the radius are allocated.
On the other hand, Rare Glyphs amplify the effects of Paragon Nodes inside their radius, unlocking an extra bonus when a specific attribute target is achieved. They provide dynamic bonuses linked to nearby selected perks and boast additional perks that trigger under given circumstances.
The process of leveling up Glyphs involves allocating XP earned from Nightmare Dungeons. Upgrading Glyphs enhances the applied effects immediately for socketed Glyphs. At the same time, unsocketed ones need to be socketed, and conditions must be met for the benefits to come into effect.
As you upgrade a Glyph, its radius also increases and needs specific attribute allocations. This increased radius implies that more nodes can come under its influence, augmenting the character build. To maximize the strength of Glyphs, players should place them in sockets that yield the most advantages.
Remember, it's a continuous journey – the farming and leveling of Glyphs – and achieving the perfect setup may take time. This boosting service is a perfect solution for this grindy task. The payoff will undoubtedly be worth the effort. Always bear in mind that your strategy when obtaining, using, or leveling up Glyphs can be the determining factor between success and defeat in Diablo 4's endgame.
ETA:
Average starting time: 1-2 hours
Average Execution time: 1 hour per 5 Glyphs
Rewards you will get:
The desired amount of Glyphs;
All the rewards that you may receive during the boost will be yours.
Requirements + Important notes:
Account sharing

(an experienced player will securely log into your account and do all the work for you)