Battle Pass Boost in D4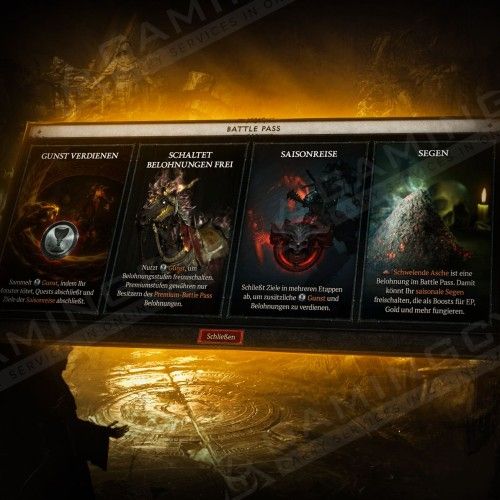 Boosting Schedule
Set the time when the booster may play your account with your manager. We can provide your whole carry while you're AFK without disturbing your usual gaming time!

24/7 support
Get a helpful human reply in ±15 seconds!

Hide My Boost
We've developed this unique software to protect you from bans and suspensions. It allows account sharing without flagging an account.

Secure Payments
You can pay securely with PayPal or your Credit Card via Stripe. All payments are covered with the customer protection system and money back guarantee!

Secure Web-site
SSL and HTTPS protocols are used for your 100% privacy & data safety
Welcome to our site where you can buy the Battle Pass Boost for Diablo 4, allowing you to bypass the tedious grind and swiftly progress through all major in-game regions. Our services are available for PS4, PS5, PC, and Xbox platforms.
Our team possesses extensive knowledge of in-game shortcuts that will speed up your D4 battle pass leveling. With our professional gamers, we have successfully completed various boosting services in D4, and they are well-versed in the quickest routes to complete all Battle Pass tasks on your behalf.
Please note that our delivery mode for this service is Piloted, which involves account sharing. One of our expert gamers will log into your account to execute the D4 Battle Pass levels farming. You will receive notifications via Discord when the boost is completed, prompting you to log back in.
Diablo 4's Battle Pass system offers both a free track and a premium track. Throughout specific seasons, players can earn rewards by completing various tasks and objectives. These seasons are three-month-long events, with four planned per year, each lasting one quarter. Each season introduces fresh content, gameplay mechanics, characters, questlines, items, and balancing tweaks, separate from the main narrative of the game.
Battle Pass Progress in Diablo 4
In Diablo 4's Seasonal Battle Pass, players can progress and earn rewards through two methods: completing objectives in the Season Journey to earn Favor, which unlocks additional Chapters and Tiers, or unlocking Battle Pass Tiers by purchasing the Accelerated Battle Pass or individual Tier skips. Notably, purchased Tier skips won't unlock Free track Tiers with Smoldering Ash, which can only be earned by leveling up a Seasonal character through regular progression, ensuring a fair, anti-Pay-to-Win approach.
Purchasing Battle Pass farming in Diablo 4 grants access to various rewards, including cosmetic items and in-game content. These rewards are divided into tiers, and players can unlock them by completing corresponding objectives or tasks. Among the rewards are cosmetic armor, mounts, emotes, titles, and other character customization options. The Premium Pass offers extra rewards in addition to the free track but does not provide any player power benefits, ensuring a fair playing field for all.
As the game progresses through different seasons, the Battle Pass will receive updates with new themes and rewards to keep the gameplay experience fresh and engaging for all players. Rest assured that the Battle Pass system does not offer any "pay to power" mechanics, maintaining a fair and balanced playing environment for everyone.
ETA:
Average starting time: 1-2 hours
Average Execution time: 1-10 days
Rewards you will get:
Progress your seasonal Battle Pass;
Smoldering Ash for Season Blessings;
Access to unique rewards from Battle Pass;
All the rewards that you may receive during the boost will be yours.
Requirements + Important notes:
Battle Pass purchased
45+ Character level