Swift Armored Vorquin Mounts Boost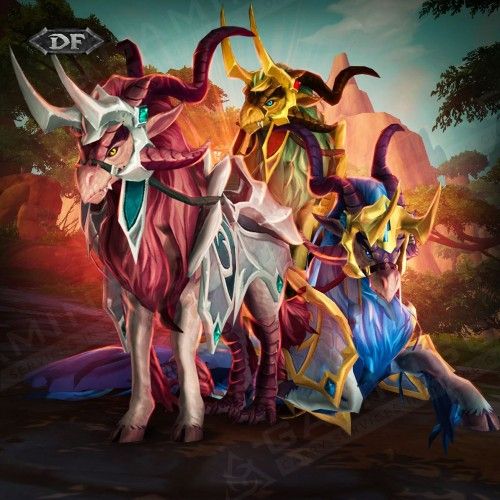 Boosting Schedule
Set the time when the booster may play your account with your manager. We can provide your whole carry while you're AFK without disturbing your usual gaming time!

Hide My Boost
We've developed this unique software to protect you from bans and suspensions. It allows account sharing without flagging an account.

Secure Payments
You can pay securely with PayPal or your Credit Card via Stripe. All payments are covered with the customer protection system and money back guarantee!

Secure Web-site
SSL and HTTPS protocols are used for your 100% privacy & data safety

Enlarge your collections!
An extensive list of unique & rare mounts makes your gameplay brighter and your whole account more precious!
Purchasing this service will give you a swift Armored Vorquins boost from our skilled WoW team at Gamingcy.
Our proficient player will deliver a seamless, turn-key completion of the Dracthyr Racial questline by securely accessing your account. This will enable you to unlock the exclusive Vorquin WoW mounts, which will become accessible to all characters on your account.
You will retain all the WoW gold and other random rewards obtained during boosting.
Seize the opportunity to expand your collection effortlessly with Gamingcy's Armored Vorquins mounts farming service!
HOW TO ACQUIRE THE NEW DRACTHYR MOUNTS?
The solution is straightforward – buy Armored Vorquin WoW mounts at Gamingcy.com!
The Dracthyr race, a recent addition to World of Warcraft, has its unique racial mount: the Vorquin. These creatures combine features of stallions and dragons, possessing four legs and a horse-like structure while also bearing claws, scales, and a dragon-like snout.
In the WoW Dragonflight expansion, players can find a total of eight purchasable Vorquin mounts. We find the Bronze and Crimson to be the most noteworthy of them.
The most straightforward way to acquire the Dracthyr racial mounts is to level up a Dracthyr character through the Forbidden Reach starting zone and purchase them directly. Treysh, a Dracthyr in the Forbidden Reach, offers all available World of Warcraft Vorquin mounts in the game. You can find Treysh at coordinates [45, 61] within the Forbidden Reach.
All Vorquin mounts are also available for purchase from Tethalash in Valdrakken's Obsidian Enclave at coordinates [26, 34].
Out of the eight Vorquin mounts accessible to Dracthyr characters, half are armored, while the remaining four showcase variations of the base model. Armored Vorquins are priced at 80 gold each, whereas unarmored Vorquin mounts can be obtained for 40 gold each.
Bypass monotonous grinding and save valuable time, energy, and resources. Opt for the Armored Vorquin mounts boost and acquire them at an affordable price without any stress. With our assistance, you can complete quests in the Dracthyr starting zone fast and efficiently!
We NEVER use any third-party software or exploits, and we do all the work manually.
ETA:
Average starting time: 1-3 hours
Average Execution time: 1-2 hours
Rewards you will get:
Requirements + Important notes:
58+ level Dracthyr

character in EU or US server

Account sharing

(an experienced player will securely log into your account and do all the work for you)