WoW Raid Gear Boosting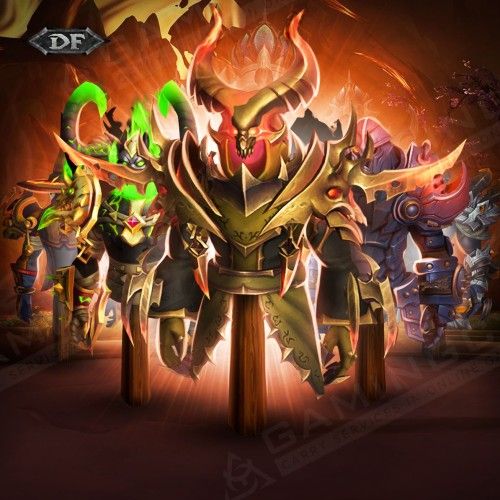 Best-seller
Your easy & right choice: these services are on a high demand for a reason!

24/7 support
Get a helpful human reply in ±15 seconds!

New service!
You can now get the most powerful SotFO Normal or Heroic Gear set!

Secure Payments
You can pay securely with PayPal or your Credit Card via Stripe. All payments are covered with the customer protection system and money back guarantee!

Secure Web-site
SSL and HTTPS protocols are used for your 100% privacy & data safety
This service allows you to buy WoW Raid gear boost from our professional PvE team and get a particular set with a guarantee.
You will farm Vault of the Incarnates with one of our guilds until you get the desired set for your class:
Normal (454-463 ilvl);
Heroic (467-476 ilvl);
It's a perfect solution if you want to skip the boring gearing part and enjoy playing a powerful WoW Dragonflight character. You will also find this service super handy for your alt toons, especially if you want to try the high-end content for a new class.
Get the best raid gear in World of Warcraft fast and hassle-free with Gamingcy!
World of Warcraft Raid Gear boost:
How does it work?
The general idea of this service is simple: we wanted to give our customers an ultimate solution for effective WoW Raid gearing.
A solution that would let you get the guaranteed result for the paid money, skipping the well-known RNG drama with loot.
The whole process will be fast and straightforward:
Pick the gear set you would like to receive during the runs (normal or heroic).
Add it to the cart and pay for your Raid gear boost via Visa/Master card/Crypto.
Get in touch with your manager via Discord/Skype/Email.
Arrange the suitable Raid gear farming service time, or start with the soonest available group.
Farm VoTI with us until you get an item level that you had paid for (100% guaranteed result)
Enjoy playing a powerful PvE character after completing your fast Raid gearing service!
How much does the Raid Gearing boost cost?
When designing our services, we always strive to give you the best value at an affordable price.
Our carries don't cost much because we're working with Top-30 PvE guilds worldwide, and it allows us to set fair, competitive prices for the WoW Raid gearing. In addition, we're constantly making limited-time sales that will make your purchase even more advantageous.
Catch and overtake your friends' and guild mates' Dragonflight progress fast, cheap, and stress-free!
ETA:
Average starting time: 1 hour
Average execution time:
Normal gear - up to 2 weeks
Heroic gear - up to 4 weeks
Options available:
Full

Normal

gear or

Heroic

gear
Rewards you will get:
Full

Raid Normal

gear (454-463 ilvl) if you pick the Normal set option
Full

Raid

Heroic

gear (467-476 ilvl) if you pick the Heroic set option
Other

RNG-based drops

that you may receive while farming the raid with us (gold, currencies, etc.)
Requirements + Important notes:
70 level

character in EU or US server

Every piece of raid gear received

counts towards the guaranteed full set!