Red Proto-Drake Mount Boost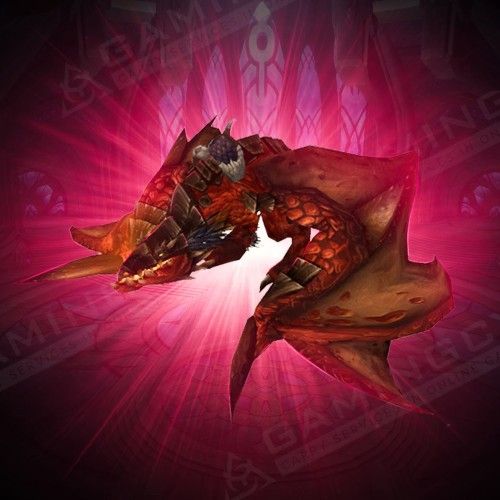 Boosting Schedule
Set the time when the booster may play your account with your manager. We can provide your whole carry while you're AFK without disturbing your usual gaming time!

Hide My Boost
We've developed this unique software to protect you from bans and suspensions. It allows account sharing without flagging an account.

Secure Payments
You can pay securely with PayPal or your Credit Card via Stripe. All payments are covered with the customer protection system and money back guarantee!

Secure Web-site
SSL and HTTPS protocols are used for your 100% privacy & data safety

Enlarge your collections!
An extensive list of unique & rare mounts makes your gameplay brighter and your whole account more precious!
At Gamingcy, we offer the opportunity to buy a Red Proto-Drake mount through our boosting service. It is awarded for completing the Glory of the Hero meta-achievement and is available for both WotLK Classic and Dragonflight expansions. We are providing our carries in both the EU and US regions.
You will receive an express Red Proto-Drake boost from our professional WoW team by purchasing our service. Our expert players have a wealth of experience and knowledge. They will provide a smooth and efficient run through WotLK dungeons, ensuring you meet all criteria required for the WotLK Hero Glory meta and unlock the Red Proto-Drake.
Our time-tested, experienced players are familiar with all the tactics required to defeat the dungeon bosses and obtain the necessary achievements. Any WoW gold or other rng-based rewards obtained during the boost will be yours to keep.
Take advantage of the Red Proto-Drake boosts by Gamingcy and get your Glory of the Hero mount without any hassle. You can quickly obtain this valuable Wrath Classic or Retail mount with our efficient and reliable boosting service.
How to get the Red Proto-Drake?
If you're looking to add the Reins of the Red Proto-Drake mount to your collection in World of Warcraft, Gamingcy.com offers a smart solution. Even in the Dragonflight expansion, farming the required achievements for this drake can be tedious and time-consuming, involving extensive research, dungeon runs, and travel across Northrend.
With our boosting service, you can skip the hassle of farming these achieves solo or with pugs and save valuable time, effort, and money. Our team of experienced players will provide a smooth and efficient run through the required WotLK Classic heroics, ensuring you meet all the necessary criteria for the Red Proto-Drake mount. And with our guarantee, you can be confident in the quality of our service.
Not only will you save time and effort, but you'll also get to enjoy the thrill of adding one of the most desired rewards from Wrath of the Lich King dungeons to your collection. Plus, with the ability to fly at 310% speed, the Red Proto-Drake mount is an impressive addition to your WoW achievement mounts. Choose Gamingcy.com for a smart way to enhance your WoW experience.
ETA:
Average starting time: 1-3 hours
Average Execution time: 3-7 days
Rewards you will get:
Options available:
Selfplay:

you will play your character yourself with a group of our professional player(s).

Account sharing:

an experienced player will securely log into your account and do all the work for you.

WoW Expansion:

choose the game that you're playing and need your boost on (Retail or WotLK Classic).
Requirements + Important notes:
70 level

character in Dragonflight EU or US server

80 level

character in WotLK Classic EU or US server