Ratstallion Mount Farming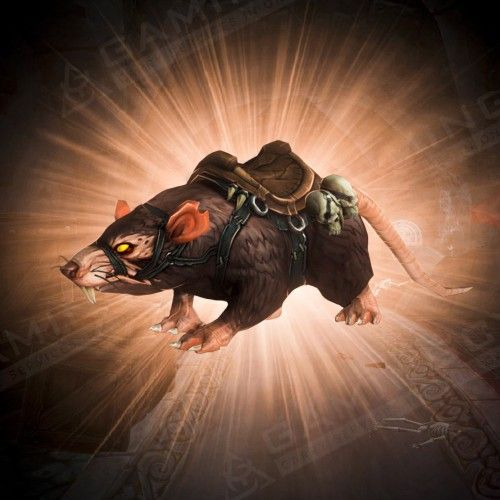 Boosting Schedule
Set the time when the booster may play your account with your manager. We can provide your whole carry while you're AFK without disturbing your usual gaming time!

Hide My Boost
We've developed this unique software to protect you from bans and suspensions. It allows account sharing without flagging an account.

Secure Payments
You can pay securely with PayPal or your Credit Card via Stripe. All payments are covered with the customer protection system and money back guarantee!

Secure Web-site
SSL and HTTPS protocols are used for your 100% privacy & data safety

Enlarge your collections!
An extensive list of unique & rare mounts makes your gameplay brighter and your whole account more precious!
This boosting service allows you to buy Ratstallion farming for real money.
Our professional gamer will securely play your account and provide an easy and smooth Ratstallion boost: he will farm 20,000x Sightless Eye in Dalaran's Underbelly. Farming Ratstallion may be long and tedious because each player can take the currency required for this rat mount, and you have to be faster than the others (especially in PvP mode). Ratstallion boost service by Gamingcy is an excellent opportunity to save your time and effort. All the WoW gold and other rng-based rewards that you may receive during this rat mount unlocking are yours to keep.
How to get Ratstallion fast?
The answer is simple! Buy Ratstallion farm from our professional WoW gamers!
Ratstallion is a Legion mount that can be got with the Sightless Eye currency. You can loot it from mobs, chests, fishing, and quests in Dalaran's Underbelly.
This boosting service is a perfect solution for the World of Warcraft collectibles enthusiasts: it will save dozens of hours of your time and allow you to skip the tedious farm of 20k Sightless Eyes. As a result, you will get the Underbelly Tycoon achievement which rewards this outstanding Rat mount. Without any doubt, it will be a genuine pearl in any collection. What's even more pleasant is that you can use the farmed eyes to buy various goodies from Underbelly vendors. Mostly, it's fun items and a Sewer-pipe Jelly pet. Each Sightless Eye counts towards the Underbelly tycoon achievement, and you can use this currency however you want.
Pay for the Ratstallion mount boost by Gamingcy, and enlarge your World of Warcraft collection hassle-free!
WoW Rat Mount Boost:
How does it work?
The general idea of the World of Warcraft Rat mount boost service is simple: we wanted to give our customers an ultimate solution for effective WoW collectibles farming.
A solution that would let you get the guaranteed result for the paid money, skipping the well-known grinding and RNG drama.
After you buy this rat mount boost, our manager will contact you via Skype/Discord/Email. It usually takes us 5-10 minutes to get in touch. You can also contact us 24/7 via Gamingcy Discord.
There you will arrange all the details about the carry: starting time, convenient playing schedule, and other nuances.
Our manager will keep you updated during the Ratstallion boosting process and immediately inform you in the preferred messenger when the job is done. Never grind WoW mounts for hours again: buy a boost, and leave all the routine to Gamingcy!
We NEVER use any third-party software or exploits, and we do all the work manually.
ETA:
Average starting time: 1-3 hours
Average Execution time: 1-5 days
Rewards you will get:
Ratstallion account-wide mount;
20,000x Sightless Eye;
You will keep all the gold and rewards that may be received during the boost.
Requirements + Important notes:
70 level

character in EU or US server

Account sharing

(an experienced player will securely log into your account and do all the work for you)