Mythic Plus Great Vault Bundle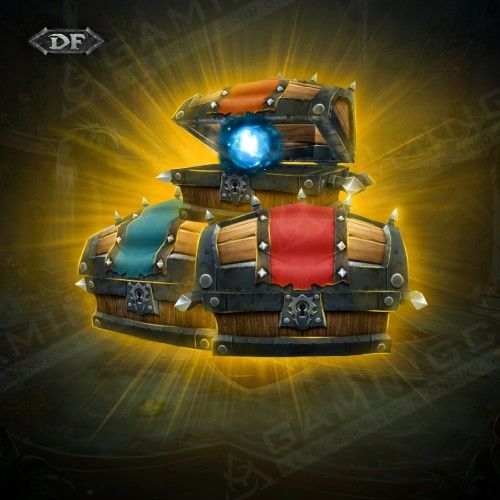 24/7 support
Get a helpful human reply in ±15 seconds!

Package deal!
Buy 1/4/8/12 runs & save up to 20%

Swift start!
The huge team of professional gamers (2067 workers) allows us to begin this service incredibly fast! (20-30 minutes!)

Secure Payments
You can pay securely with PayPal or your Credit Card via Stripe. All payments are covered with the customer protection system and money back guarantee!

Secure Web-site
SSL and HTTPS protocols are used for your 100% privacy & data safety
Here you can buy Mythic Plus Great Vault boost to get your guaranteed Mythic+ Dungeon Weekly Chest reward in WoW Dragonflight.
GV has been introduced in World of Warcraft Shadowlands, allowing you to receive one piece of guaranteed equipment weekly. A new item arrives in your chest once per week after the maintenance of your server.
To unlock that piece of gear, you must complete Mythic Plus dungeons. The more runs you complete - the more rewards of the M+ Great vault category you can choose from:
1x run

- one random item;

4x runs

grant you an opportunity to choose 1x item out of two items;

8x runs

allow you to choose from three items.
You can get your Great Vault Mythic Plus reward in Valdrakken.
The higher the difficulty of the completed dungeon, the higher the item level of your Mythic Plus Great Vault reward.
However, the ilvl of that piece does not change based on your beating or missing the M+ timer. That's why as a part of this product, to make it cost less and let you achieve your weekly goals most effectively, we're selling no-timer runs. However, you can always configure and get an express in-timer Mythic boost here.
This service is an excellent opportunity to get your Mythic Plus Weekly rewards without overpaying: we've carefully designed the options, striving to create a service that would be a turnkey solution for you.
Take advantage of the buy more, save more mechanics, and complete your Mythic Weekly quest in Dragonflight fast, cheap, and hassle-free!
Great Vault in Mythic Plus:
How does it work?
The gameplay in World of Warcraft is cyclical, and getting your Mythic Weekly Chest Dragonflight rewards every week to stay competitive is essential. By ordering this service, you will get multiple Mythic Plus runs without beating the timer at a bundle price.
In most cases, we provide them using our keystones. We believe it's the most convenient option for the majority of customers. That's why our groups always have multiple keys to the most widely used difficulties.
An extensive base of expert Dragonflight teams that we're working with allows us to start carries lightning-fast. Avg waiting time is 10-20 minutes.
As a result, you will get a guaranteed item from your Great Vault Weekly Chest, and a chance to get the end-dungeon rewards. Take advantage of the package deal mechanics, and save up to 20%!
ETA:
Average waiting time: check the schedule
Average execution time: 20-30 min per run
Rewards & Options description:
| | | |
| --- | --- | --- |
| Key | End-dungeon rewards | Great vault chest reward |
| +10 | 454 ilvl | 470 ilvl |
| +11 | 457 ilvl | 470 ilvl |
| +12 | 457 ilvl | 473 ilvl |
| +13 | 460 ilvl | 473 ilvl |
| +14 | 460 ilvl | 473 ilvl |
| +15 | 463 ilvl | 476 ilvl |
Guaranteed 470-476 ilvl

from your Great Vault weekly chest:

4x dungeons completion allows choosing

from 2 items

in your great vault
8x dungeons completion allows choosing

from 3 items

in your great vault

A chance to get a 454-463 ilvl gear

from end-dungeon rewards (boosters are also

trading their loot

when it's possible)
Requirements + Important notes:
70 level character

in EU or US server