The Bloodsail Buccaneers Reputation Boost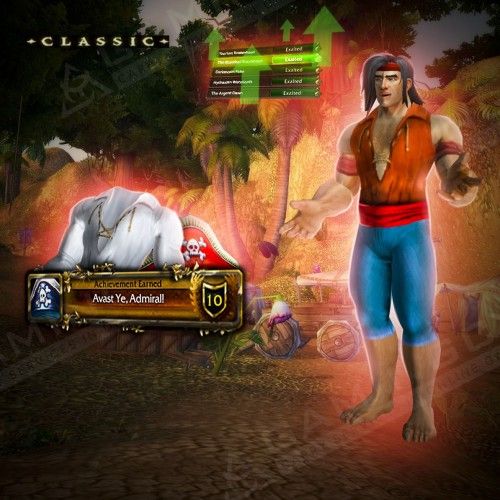 Boosting Schedule
Set the time when the booster may play your account with your manager. We can provide your whole carry while you're AFK without disturbing your usual gaming time!

Hide My Boost
We've developed this unique software to protect you from bans and suspensions. It allows account sharing without flagging an account.

Secure Payments
You can pay securely with PayPal or your Credit Card via Stripe. All payments are covered with the customer protection system and money back guarantee!

Secure Web-site
SSL and HTTPS protocols are used for your 100% privacy & data safety
This page gives you an opportunity to buy Bloodsail Buccaneers Rep Boost in World of Warcraft Dragonflight. It's a Neutral WoW Classic faction.
The Bloodsail Buccaneers is a faction in Classic World of Warcraft representing a group of pirate outlaws who sail the seas of Azeroth. You can gain a reputation with the Bloodsail Buccaneers by completing quests, defeating enemies, and turning in particular items. However, doing so will cause you to lose your reputation with all other factions.
The Bloodsail Buccaneers are known for their ruthless and aggressive tactics, often attacking ships and settlements in their quest for treasure and power. They have a strong presence in the game's lore, with key characters such as Captain Keelhaul and Baron Revilgaz involved in significant events.
Players who align themselves with the Bloodsail Buccaneers can experience unique storylines and quests that explore the seedy world of pirate life. The faction also offers unique rewards, including pirate-themed pets and gear.
However, it's important to note that gaining a reputation with the Bloodsail Buccaneers comes at a cost. Players who choose to do so will become hostile to all other factions, making it difficult to interact with friendly NPCs and complete quests. Additionally, some players may view aligning with the Bloodsail Buccaneers as a betrayal of their faction and may react accordingly.
Overall, the Bloodsail Buccaneers offer players a chance to experience the seedy world of pirate life in World of Warcraft, but at the cost of alienating themselves from all other factions in the game.
By purchasing the Bloodsail Buccaneers rep farming, you can unlock unique factional rewards. The table below contains a detailed list of items available at each reputation level. Our professional booster will play your account securely and complete various factional quest lines and dailies until they reach the Exalted Rep lvl.
Our site offers various types of Bloodsail Buccaneers rep farming to help you upgrade your current rep standing to the max level. The carry is customizable and guarantees results without overpaying. Buying the Bloodsail Buccaneers reputation boost from us is the quickest way to unlock outstanding rewards and skip the boring rep grinding. We'll make the entire leveling process hassle-free and enjoyable, completing the entire job turn-key.
The WoW Reputation Ranks follow this logic: Hated -> Hostile -> Unfriendly -> Neutral -> Friendly -> Honored -> Revered -> Exalted.
Bloodsail Buccaneers Reputation Power Leveling:
How it works?
Our Bloodsail Buccaneers rep leveling service is designed to be fast, simple, and affordable. Once you've made your purchase, we take care of everything else. Our operator will reach out to you on Discord/Skype/Email within 5-10 minutes of payment. Alternatively, you can contact us directly on Discord using our tag: Gamingcy. We're available 24/7 to discuss your preferences, including convenient playing schedules, starting times, and ETAs.
Typically, it takes around 5-7 days to reach Exalted standing, but our booster will always work to provide the fastest possible service. We'll keep you updated throughout the process, and once the job is done, we'll let you know right away.
Don't waste time farming Bloodsail Buccaneers reputation. Let our expert gamer handle it for you and save yourself hours of work!
Below you can find the list of the most significant rewards, which you can purchase from the Quartermaster Enuril, quartermaster of this faction:
ETA:
Average starting time: 1-5 hours
Average Execution time: Bloodsail Buccaneers exalted boosting takes 5-7 days
Rewards you will get:
The Exalted rank with faction and access to all factional rewards;
Criteria for the Insane in the Membrane achievement («Insane» title).
Options available:
Reputation: Choose your current rank with the Bloodsail Buccaneers.
Requirements + Important notes:
70 level

character in EU or US server

Account sharing

(an experienced player will securely log into your account and do all the work for you)