Diablo 4 Rogue builds Boost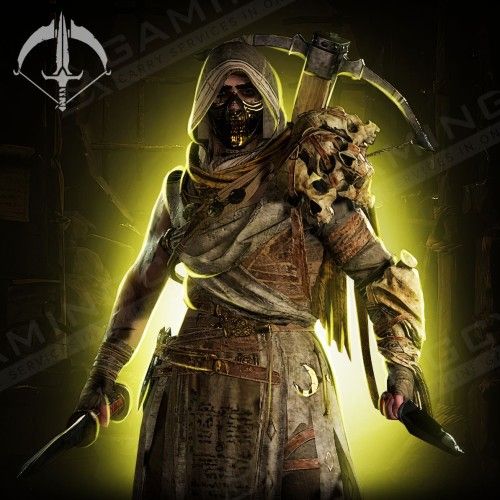 Boosting Schedule
Set the time when the booster may play your account with your manager. We can provide your whole carry while you're AFK without disturbing your usual gaming time!

24/7 support
Get a helpful human reply in ±15 seconds!

Hide My Boost
We've developed this unique software to protect you from bans and suspensions. It allows account sharing without flagging an account.

Secure Payments
You can pay securely with PayPal or your Credit Card via Stripe. All payments are covered with the customer protection system and money back guarantee!

Secure Web-site
SSL and HTTPS protocols are used for your 100% privacy & data safety
Welcome to Gamingcy, your ultimate store for buying the best Rogue Builds in Diablo 4 quickly and efficiently. Our wide-ranging boosting services are compatible with multiple platforms, including PC, PlayStation 4, PlayStation 5, and Xbox.
When you choose to purchase Rogue Meta Builds through our site, you're signing up for a formidable combination of skills, gear, weapons, and aspects specially designed for this stealthy class. This boost is founded on the following potent metas:
Twisting Blades;
Death Trap;
Penetrating Shot.
By assigning your account to our proficient gamer, they will skillfully and securely complete all the necessary steps to farm your desired D4 Rogue Build. Say goodbye to the time-consuming gearing-up process, and welcome the exhilaration of wielding a mighty character in Diablo 4.
Gamingcy's Diablo 4 Rogue Build boost service goes beyond enhancing your main character's gaming experience. It also provides significant benefits when leveling up alternate characters. Revel in the luxury of exploring high-end content from a fresh angle, delving into the game's intricacies without unnecessary stress.
With Gamingcy, you're choosing the fastest, most hassle-free route to the power of a Meta Build. We stand as the preferred platform for gamers aiming to optimize their skills, offering an advantage that propels them toward victory. If you're seeking to buy the Rogue Best Build for leveling, farming, or conquering endgame events and activities, Gamingcy is your reliable partner in Sanctuary. Navigate the game with a meta character, and immerse yourself in a remarkable gaming journey.
Diablo 4 Rogue Meta Build boost:
How does it work?
We are committed to delivering customers a smooth, efficient pathway to mastering the Rogue meta in Diablo 4. We aim to ensure guaranteed results, eliminating the uncertainties associated with RNG loot drops.
Here's a snapshot of our streamlined, customer-friendly process:
Choose Your Build:

Select from Twisting Blades, Death Trap, and Penetrating Shot, and decide on the one that aligns best with your playstyle.

Checkout Process:

Add your chosen meta build to your cart and finalize your secure payment via Visa, Mastercard, or your chosen cryptocurrency (BTC, USDT, ETH).

Engage with Your Discord Manager:

Connect with your dedicated manager through the Gamingcy username for a personalized customer service experience.

Plan Your Boosting Session:

Arrange a time that suits you to initiate our efficient farming service for your purchased Rogue Build.

Sit Back and Watch the Progress:

Our professional gamer will manage your Rogue until they farm the precise build you've paid for. We promise a 100% successful outcome.

Venture on Your D4 Adventure:

Step into the captivating world of Sanctuary as a tough rogue right after the swift completion of our build service!
By opting for our service, you sidestep the unpredictability of random loot drops. Instead, you gain immediate access to the power and efficiency of your character without any delays. Join us for a seamless, empowering, and immersive gaming journey.
The Best Diablo 4 Rogue Builds
| | | | |
| --- | --- | --- | --- |
| Gear Slot | Twisting Blades Items | Death Trap Items | Penetrating Shot Items |
| Ranged Weapon | Bladedancer Aspect | Bladedancer | Edgemaster's Aspect |
| Melee Weapon | Doombringer | Smiting Offensive | Aspect of Corruption |
| Melee Weapon | Accelerating Aspect | Doombringer | Condemnation |
| Unique Helm | Harlequin Crest | Harlequin Crest | Harlequin Crest |
| Legendary Chest | Disobedience Aspect | Disobedience | Aspect of the Protector |
| Legendary Gloves | Mangler's Aspect | Mangler's Aspect | Rapid Aspect |
| Legendary Pants | Cheat's Aspect | Aspect of Might | Aspect of Might |
| Unique Boots | Penitent Greaves | Penitent Greaves | Penitent Greaves |
| Legendary Amulet | Blast-Trapper Aspect | Blast-Trapper | Trickshot Aspect |
| Ring Slot #1 | Smiting Aspect | Accelerating Aspect | Conceited Aspect |
| Ring Slot #2 | The Umbral Aspect | Vengeful Aspect | Aspect of the Expectant |
What's the cost of Rogue Build farming?
Our primary aim is to offer incredible value and affordability with our D4 Rogue builds farm services. Through our partnerships with skilled professional gamers, we can provide competitive and fair prices for our boosts. Our carries are meant to be cheap while ensuring top-notch quality. We believe in delivering reasonable prices that ensure you get the most from your payment.
To sweeten the deal of your purchase, we regularly introduce limited-time sales and discounts. These exclusive promotions enhance your purchasing experience, enabling you to enjoy even more significant savings while still receiving our top-quality service. With our dedication to affordability and periodic special deals, we desire to guarantee that you acquire the best bargain for your funds when choosing our services.
ETA:
Average starting time: 1-2 hours
Average execution time: 9-24 days
Rewards you will get:
The desired End-Game Rogue build (Twisting Blades / Death Trap / Penetrating Shot);
Fallen Temple Capstone Dungeon completed;
Access to Ancestral Gear & Royal Gems;
Up to Level 5 Renown in all regions;
All the gold, resources, and other rewards that you may receive during the boost.
Options available:
Levels Range:

Select your current character level to raise it to level 100.

Build

: Select the desired build;
Requirements + Important notes:
Account sharing

(an experienced player will securely log into your account and do all the work for you)