Necromancer builds Boost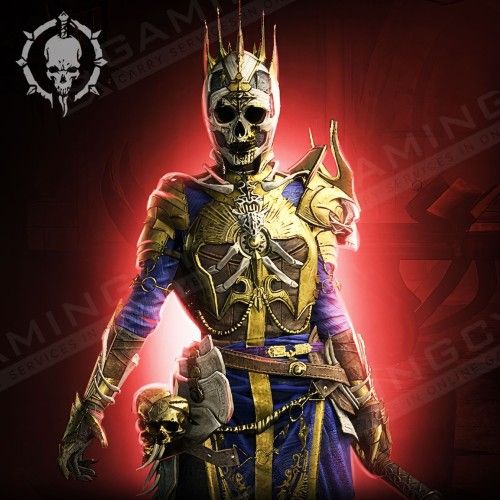 Boosting Schedule
Set the time when the booster may play your account with your manager. We can provide your whole carry while you're AFK without disturbing your usual gaming time!

24/7 support
Get a helpful human reply in ±15 seconds!

Hide My Boost
We've developed this unique software to protect you from bans and suspensions. It allows account sharing without flagging an account.

Secure Payments
You can pay securely with PayPal or your Credit Card via Stripe. All payments are covered with the customer protection system and money back guarantee!

Secure Web-site
SSL and HTTPS protocols are used for your 100% privacy & data safety
Welcome to Gamingcy, your ultimate destination for buying the best Necromancer Builds in Diablo 4 efficiently and effortlessly. We provide extensive boosting services compatible across platforms, including PC, PlayStation 4, PlayStation 5, and Xbox.
By purchasing a Necromancer Meta Builds from our platform, you'll be equipped with a powerful combination of skills, gear, weapons, and aspects meticulously designed for this spellbinding class. Our boost is centered around the following potent metas:
Bone Spirit;
Bone Spear;
Sever.
Placing your account into the capable hands of our seasoned gamers means they will skillfully and securely complete all necessary steps to farm your desired D4 Necromancer Build. Abandon the grind of gearing up and embrace the thrill of wielding a formidable character in Diablo 4.
Gamingcy's Diablo 4 Necromancer Build boost service is designed to significantly enhance your main character's gaming experience. It also offers immense benefits when it comes to leveling up alternative characters. Dive into high-end content from a fresh perspective, unraveling the game's complexities without the additional stress.
Choosing Gamingcy means selecting the quickest, most convenient path to the power of a Meta Build. We serve as the top platform for gamers aiming to fine-tune their skills, offering an advantage that guides them to victory. If you're planning to buy the Necromancer Best Build for leveling, farming, or tackling endgame events and activities, Gamingcy is your trusted companion in Sanctuary. Traverse the game with a meta character, and immerse yourself in a gaming experience that's second to none.
Diablo 4 Necromancer Meta Build boost:
How does it work?
We dedicate ourselves to offering customers a seamless, efficient strategy for mastering the Necromancer meta in Diablo 4. Our promise is to guarantee results, effectively eliminating the unpredictable challenges associated with RNG loot drops.
Here's an overview of our customer-friendly, streamlined process:
Pick Your Build:

Choose from Bone Spirit, Bone Spear, and Sever, and decide which aligns best with your gaming strategy.

Checkout Process:

Add your chosen meta build to your cart and complete your secure payment using Visa, Mastercard, or your preferred cryptocurrency.

Connect with Your Dedicated Manager:

Engage with your dedicated manager through the Gamingcy username for a personalized service experience.

Schedule Your Carry:

Arrange a suitable time to start our proficient farming service for your chosen Necromancer Build.

Relax as we Boost:

Our professional gamer will manage your Necromancer until they farm the exact build you've purchased. We promise a 100% successful result.

Start Your D4 Journey:

Immerse yourself in the enthralling world of Diablo 4 as a formidable necromancer following the swift completion of our build service!
By choosing our service, you sidestep the unpredictability of random loot drops, instantly accessing the might and efficiency of your character without any holdups. Join us for a smooth, empowering, and immersive gaming journey.
The Best Diablo 4 Necromancer Builds
| | | | |
| --- | --- | --- | --- |
| Gear Slot | Bone Spirit Necromancer Items | Bone Spear Necromancer Items | Sever Necromancer Items |
| Weapon | Aspect of Grasping Vines | Splintering Aspect | Blood-Soaked Aspect |
| Unique Helm | Harlequin Crest | Harlequin Crest | Aspect of Disobedience |
| Unique Chest | Blood Artisan's Cuirass | Blood Artisan's Cuirass | Aspect of Explosive Mist |
| Unique Gloves | Howl from Below | Aspect of Grasping Veins | Aspect of Grasping Veins |
| Unique Pants | Temerity | Temerity | Aspect of Shielding Storm |
| Unique Boots | Penitent Greaves | Penitent Greaves | Ghostwalker Aspect |
| Unique Amulet | Melted Heart of Selig | Melted Heart of Selig | Blighted Aspect |
| Ring Slot #1 | Aspect of the Umbral | Aspect of the Umbral | Aspect of the Umbral |
| Ring Slot #2 | Osseous Gale Aspect | Exposed Flesh | Fastblood Aspect |
What's the Cost for Necromancer Build farming?
At our core, we strive to offer exceptional value and affordability with our Necromancer builds farming services. We provide competitive and reasonable boost pricing thanks to our partnerships with skilled professional D4 gamers. Our carries are designed to offer quality at a cost-effective price. We are committed to providing fair prices that yield the best return on your investment.
To sweeten your buying experience, we frequently introduce limited-time sales and discounts. These special promotions offer you greater savings while still enjoying our high-quality service. With our commitment to affordability and occasional promotional offers, we aim to ensure you receive unmatched value for your money when choosing our services.
ETA:
Average starting time: 1-2 hours
Average execution time: 9-24 days
Rewards you will get:
The desired End-Game Necromancer build (Bone Spirit / Bone Spear / Sever);
Fallen Temple Capstone Dungeon completed;
Access to Ancestral Gear & Royal Gems;
Up to Level 5 Renown in all regions;
All the gold, resources, and other rewards that you may receive during the boost.
Options available:
Levels Range:

Select your current character level to raise it to level 100.

Build

: Select the desired build;
Requirements + Important notes:
Account sharing

(an experienced player will securely log into your account and do all the work for you)